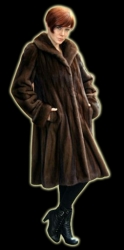 New York, NY, April 30, 2012 --(
PR.com
)-- The cost of
fur garments
will increase more than 50% due to high fur pelt pricing at the fur auctions. The auctions were filled with Russian and Chinese fur buyers dominating the sale. The American fur buyers purchased small quantities due to overwhelming price increases.
The new price structure will hurt American Fur businesses this coming season due to the sharp increase in the cost of the pelts. In addition to the increased cost of the fur pelts, labor and transportation cost have also increased which will add additional costs to the final product.
Once you add all of these added increases, the
fur manufacture
r will also put a markup on top of the increased pricing.
With the high cost of new fur garments, fur owners will choose to maintain their current fur by
fur repairing
,
fur remodeling
,
fur cleaning and fur storage
.
* Based on Toronto, Copenhagen and Seattle auctions
For more information please visit www.kaufmanfurs.com.