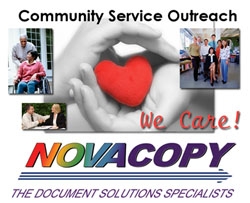 Dallas, TX, May 01, 2012 --(
PR.com
)-- NovaCopy, Inc., a leading provider of innovative document workflow solutions and state-of-the-art office technology, as well as one of Konica Minolta's top Copier dealers in the United States, is expanding its donated copier program to the Dallas-Ft. Worth Metroplex.
"NovaCopy has traditionally played an active role in the local communities it serves," said NovaCopy CEO, Darren Metz. "This year we wanted to expand that role in the Dallas-Ft. Worth area with our 'Copiers for Non-Profits Program.' It's a great way to serve those organizations that in-turn contribute to the well-being of others."
From churches to welfare organizations to child care groups, NovaCopy will donate a black and white copier to help them with their office needs. To date, NovaCopy has given out hundreds of machines. NovaCopy Document Solutions Specialists will respond to requests, conduct a free workflow analysis and make equipment recommendations based upon need.
NovaCopy's new 40,000 square foot office based in Irving, TX will be the distribution center for the program in the Dallas-Ft. Worth Metroplex.
"We're excited to expand the program to the local area," said NovaCopy General Manager, Gary Greer. "Selling copiers and office solutions is not in the same league as helping people at a city mission or in a clinic so the need to contribute and to help make a difference in some way is important to the management and staff of NovaCopy."
Some restrictions apply. Donated equipment can only be used in commercial office space, and is not available for local residential installation. Those organizations selected will receive a free copier including free delivery, installation and training. To apply, non-profit organizations need to possess a 501(c) tax exemption status and electronically submit an application found via
www.NovaCopy.org
.
About NovaCopy, Inc.
NovaCopy is an award-winning copier and document solutions company providing affordable, customized office workflow and integrated business technology. One of Konica Minolta's top tier copier dealers in the United States and North America, as well as an Inc. 500 company, NovaCopy offers free cost analysis so you may easily choose the exact document solutions, equipment, accessories and software to meet your needs – within your budget. From copiers to networked laser printers to document management to 3D Printer solutions and office supplies, NovaCopy is ready to help streamline your business. For more information, please visit:
www.NovaCopy.com
. Follow NovaCopy on
Facebook
and Twitter for all the latest news.