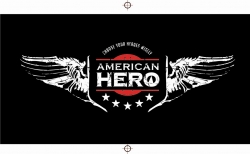 Wichita, KS, May 05, 2012 --(
PR.com
)-- Kids today often idolize athletes and celebrities, who may not deserve this praise. Yes, there are some true role models in both of these professions, but far too often we read or see something that leaves us in disbelief. Instead, provide a gift that promotes awareness of a great cause and gives your child or that of a friend with a true hero to admire: The American Soldier.
So many American citizens quietly dedicate their lives to protecting our freedom and are never given the attention they deserve. While we have come a long way from the days of Vietnam regarding the treatment of our soldiers, we can never really do enough to acknowledge the sacrifices they make and the ultimate price many of them pay so the rest of us can go about our lives freely.
American Hero T Shirt offers a complete line of both patriotic and memorial shirts and hoodies that kids will absolutely love. More importantly, these help children become more aware that the true heroes of this world do not play baseball, football, basketball, or act in movies or television shows. Real heroes are the individuals who voluntarily put themselves in harm's way for the sake of protecting our rights to live freely as Americans.
Another benefit of purchasing these shirts and hoodies is that a portion of every sale is provided to Fallen Warrior Foundation. This organization is dedicated to helping surviving spouses and children of fallen soldiers who have given the ultimate sacrifice during combat. These families receive financial assistance, financial counseling, and educational assistance from the foundation.
About: Americanherotshirt.com is a patriotic apparel website dedicated to supporting the families of soldiers who have given the ultimate sacrifice. A portion of every sale is donated to Fallen Warrior Foundation. Americanherotshirt.com offer both patriotic gifts and shirts as well as memorial shirts.