The NSLS Excellence in Leadership 2012 Award Goes to Dr. H. Matthes (Matthes Consulting), Mr. M. Jones (Ford), Dr. I. Kopaliani (CxTGroup, Inc), and Mr. J. Saunders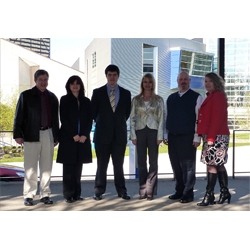 Southfield, MI, May 10, 2012 --(
PR.com
)-- The two year journey by the four-member Success Network Team (Dr. Heike Matthes of Matthes consulting, Mr. Michael D. Jones of Ford Motor Company, Dr. Irene Kopaliani of CxTGroup, Inc, and Mr. Jeffrey Saunders) culminated with the achievement of the Presidential Seal and the National Excellence in Leadership Award. Success, action, and purpose were exemplified by this team of individuals through the two year commitment for their extraordinary efforts in realizing the highest level of scholastic achievement, speaker events, team meetings, and community service.
The National Society of Leadership and Success recognized each individual of the team with the National Excellence in Leadership Award presented on April 27, 2012 by Richard Cook (LTU NSLS President) and Rose-Ellen Filthaut (NSLS Treasure and Event Sponsor).
About the Society
The Society is an organization that helps people discover and achieve their goals. The Society offers life-changing lectures from the nation's leading presenters and a community where like-minded success oriented individuals come together and help one another succeed. The Society also serves as a powerful force of good in the greater community by encouraging and organizing action to better the world.
About Team Members
Heike Matthes, DBA
Dr. Heike Matthes has more than 20 years of international business and consulting experience for European, Asian, and American corporations that conduct business around the globe. Her expertise includes customs regulations, international trade law, tax planning, auditing, change of legal structures, mergers and acquisitions, financial planning, and related areas. Dr. Matthes (Matthes Consulting) has conducted group and individual intercultural management and strategy training sessions in the U.S. for a wide range of multinational companies such as General Motors, Adobe Systems, and Proctor & Gamble. She has also taught courses at the graduate level in the U.S. and lectured in Germany in various fields of taxation, customs regulations, accounting, business law, and investment.
Michael D. Jones
Mr. Michael Jones' scholastic achievements include a BSME (1986), Master of Engineering Management (2011), and an MBA (2012) from Lawrence Technological University. Mr. Jones has worked as OEM Product Design Engineer for 26 + years. His background in the automotive industry includes Program Management, Interior product design, Exterior product design, Studio Engineering, and advanced composite design. Mr. Jones is currently a member of the National Society of leadership and Success (ΣΑπ), The National Honorary and Professional Management Fraternity (ΣΙΕ), and The Engineering Society of Detroit. Mr. Jones' hobbies include golfing, biking, gardening and birding.
Irene Kopaliani, DM (IT)
Dr. Irene Kopaliani believes in using her knowledge and expertise to contribute to the IT community. She automates manual processes and streamlines existing computer automation by using latest technology. Working smarter, not harder, gives her clients a competitive edge over similar companies struggling with manual or outdated processes. Dr. Kopaliani publishes articles and white papers on a variety of IT subjects including website design, information security, and database topics.
Jeffrey Saunders
Mr. Saunders served for more than a decade in the U. S. Navy on the aircraft carrier USS Theodore Roosevelt and at Nava Air Station Oceana in Virginia Beach, VA. He was also a member of the honor guard for the USS Wisconsin as well as the recipient of many service related medals and awards. Mr. Saunders' scholastic achievements include an Associate Degree in Applied Science, Computer Electronics with Fiber Optics and Network from ECPI College of Technology, Virginia Beach, VA (2001), a Bachelor of Science in Engineering Technology (2008) as well as a Master of Engineering Management (2011) from Lawrence Technological University (LTU). He is currently pursuing a Master in Business Administration at LTU. Mr. Saunders is Certified Lean Six Sigma Black Belt and has also been a member of The National Society of Leadership and Success (ΣΑπ), Society of Engineers (SAE) and Institute of Electrical and Electronics Engineers (IEEE). Music is his hobby and he is an alumnus of Interlochen Center for the Arts.
Additional Information: Contact Dr. Irene Kopaliani at irene@cxtgroup.com or call 877-439-2539
Contact
CxT Group, Inc.
Irene Kopaliani
877-439-2539
www.cxtgroup.com

Contact