Monroe Students Bring Healthcare to the Dominican Republic
Health abroad team visits villagers with medicine, screening, and guidance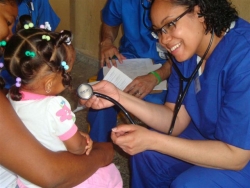 New York, NY, May 09, 2012 --(
PR.com
)-- Travelling in vans through some of the Dominican' Republic's most poverty-stricken areas, a team of thirteen Monroe College students, aided by two professors and local physicians, provided health care to more than 750 needy villagers over a ten-day period. As part of the Healthcare Study Abroad Program designed to give students unmatched real world experience working with professional health and medical teams across the world, the students dispensed medicines, screened villagers for disease, and treated and advised patients on a range of healthcare issues like good nutrition to preventing chronic illness.
"We definitely made a difference," said Dr. Jerry Kostroff, Dean of the School of Allied Health Professions who accompanied the students along with Professor Tasha Valentino. "People really appreciated our visits and because we treated so many children, we were able to really bond with the communities."
The students used many of the skills they have learned as students at Monroe. Selected from Monroe's Public Health, Medical Assisting, and Pharmacy Technician programs, after going through a rigorous screening process including a review of academic standards, the students submitted essays, personal interviews, and satisfactory completion of Medical Spanish and Global Health Issues courses.
According to Dean Kostroff, basic health education was among the most important aspects of what the Monroe Health Abroad team was able to impart so that over time, the leaders of the communities can institute programs that will eradicate and prevent the diseases that afflict the residents.
"The poverty was as epidemic as any potential disease," Dr. Kostroff said, "and with no toilets or potable water there is an strong possibility of the spread of parasites and cholera. So while our students might not have been able to imagine such deplorable conditions beforehand, this was an important part of their real world education to do what they could to help address them."
The Healthcare Study Abroad Program is part of a contractual agreement between Monroe College and International Service Learning, ISL, a non-profit organization registered in the United States and the countries in which they serve (Central and South America, Mexico, Africa and the Caribbean).
Contact
Monroe College
Shane Seaman
1 646 393 8272
www.monroecollege.edu

Contact