Red Flush and Casino La Vida Crown New Slot Survivor Champion
Marenr1 becomes the new Slot Survivor champion and the winner of a trip to the Monaco Grand Prix to the value of $20,000.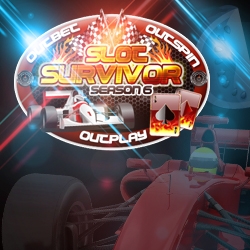 Johannesburg, South Africa, May 12, 2012 --(
PR.com
)-- Slot Survivor Season 6, the multi-player tournament hosted exclusively by Red Flush and Casino La Vida, has a new champion. The tournament ended on May 6, 2012 after it had been running for more than 2 months. The new champion, marenr1, had been in the lead since the start of the tournament to finish with a total of 51,375 points.
Today Alex Roberts, the promotions manager at Red Flush Casino, said that Season 6 had become one of the most successful Slot Survivor tournaments hosted by Red Flush and Casino La Vida. "The tournament had a total of over 2600 registered players, making it the most competitive to date and the victory of marenr1 all the more impressive," he said.
Marenr1, who had been a contestant during previous Slot Survivor tournaments, started his campaign aggressively after he had acquired the lead during the first week of the competition. This provided him with the necessary momentum to remain in the no.1 position, and secure the victory.
"Marenr1 was an impressive competitor who wasted no time in making a dash for the top of the leaderboard," added Roberts.
Kaloa, who finished in second place, made a noble attempt to catch up to marenr1. The player had more than 20,000 points less than the leader a little over two weeks ago, and made a brave effort to close the deficit down to just 1890 points. In the end, it was the sheer determination of marenr1 that would carry him through to the very end.
"We are proud of every player for their loyal support, and want to congratulate marenr1 on winning the Slot Survivor tournament as well as the Grand Prize of a trip to the Monaco Grand Prix to the value of $20,000," said Roberts.
Unlike its predecessor, Slot Survivor Season 6 presented prizes to both the top 10 players on the leaderboard as well as during the Slot Survivor Daily Prize Giveaway. The latter consisted of a daily prize draw that provided all players with an equal opportunity to win a variety of prizes, including Free Spins, Cash, Apple iPads, Vouchers, Smart Phones, Armani Watches, an LG LED television and loads more.
To view the full list of winners, visit the
Slot Survivor
website. Alternatively, log on to
Red Flush Casino
and
Casino La Vida
to read about other tournaments, promotions and events hosted by the two Microgaming powered casinos.
Contact
Red Returns
Sean Deville
1-888-885-4517

Contact