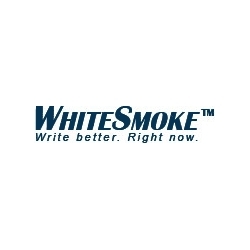 Newark, DE, June 07, 2007 --(
PR.com
)-- Search engine results are highly dependent on the quality of the keyword or phrase entered into the query box. Google, Yahoo! and MSN are constantly improving their search engine algorithms for more relevant results, with Google updating their algorithms as much as 6 times a week. However, the work put into search engines to improve relevancy can only be fully taken advantage of with a rich English vocabulary. WhiteSmoke's English software enhances the user's ability to find the right word, making searching more productive.
Could it be that we generally expect too much from our search engines? Nadine Hoechstoetter, a researcher of search behavior, thinks so: "Users tend to search too generally and are met with a tangled mass of information." Searches can be made much more specific through the correct use of English. Checking spelling and grammar at the query box, and having a range of synonyms at your disposal, can make all the difference in obtaining consistently relevant results. This is even truer with the new Google 2.0, where results are drawn from a much wider variety of sources. We can't expect Google to do all the thinking for us.
"The more concrete the entry, the quicker you'll find something relevant", says Stefan Keuchel, spokesman for Google's Hamburg office. Effective use of synonyms is one of the most powerful ways to make your searches more concrete. Google's synonym finder is a handy tool for this. However, Google's synonym tool does not provide the user with a list of the words it considers synonyms; thus the user is limited in his/her ability to refine the search. WhiteSmoke's synonym finder is far more powerful. Simply enter a keyword in the query box and open WhiteSmoke for an extensive collection of synonyms. This empowers the user to choose the most relevant synonyms for the search.
The benefits of WhiteSmoke are not just for search engine users. For website SEO specialists, synonyms are a creative way to make Google 2.0 web content more varied yet still focused on the subject. This can greatly improve web page ranking in Google. The same applies in writing content for AdWords and AdSense, where smart writing can increase the ad's relevancy for a wider range of keywords.
Even though Google, Yahoo! and MSN constantly refine their search engines to provide more relevant results, an expanded English vocabulary is still the best tool for accurate searching. WhiteSmoke helps the user find the right keywords for a productive search experience.
For more online information:
http://www.whitesmoke.com/landing_flash/grammar.html?d=1&a=24&r=1285
Contact Information:
David Brown / 972-50-3289279 / david@whitesmoke.com
###