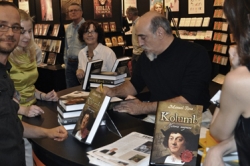 Warsaw, Poland, May 15, 2012 --(
PR.com
)-- "This book is Awesome! An overnight sensational Bestseller that will forever change how we see our human history," raved the show hosts Agnes Furtak and Raf Uzar on Polish Radio "Bed and Breakfast" this Sunday morning.
A Portuguese-born historian who now lives in North Carolina, Manuel Rosa has been chasing the clues of Christopher Columbus's secret identity for 21 years and believes he has finally solved the puzzle. "Christopher Columbus, or better said Cristóbal Colón, his Spanish name," says Rosa "was the pseudonym of Prince Segismundo Henriques born on Madeira and the son of King Ladislau III," referring to Vladislaus by God's grace king of Poland, Hungary, Dalmatia, Croatia, and lands of Kraków, Sandomierz, Sieradz, Łęczyca, Kuyavia, Supreme Prince of Lithuania, lord and heir of Pomerania and Ruthenia, whom most had accepted perished in Varna 1444 against the Turks.
The book takes you on a fascinating voyage through the mysteries of the Portuguese Age of Discovery, through Spanish Queen Isabella's fight to steal the crown from her young niece, through the conversion of the Knights Templar into the Portuguese Order of Christ and finally into the secrets of Christopher Columbus's life and true identity.
Already lauded as a history changing book by many academics, the book was initially looked at with much skepticism in Poland, said Raf Uzar. But after a careful reading Mr. Rosa has succeeded in converting even the most skeptical with well-documented sources and not only giving us transcriptions of the original documents but even images of those documents deemed most important for solving the 500-year-old Christopher Columbus mystery.
"A completely new face of Christopher Columbus is emerging from a book published in Polish by Portuguese historian Manuel Rosa, who believes that the discoverer of America was the son of the Polish king for the Jagiellonian dynasty, Władysław III of Varna," writes the Polish Newspaper Gazeta Prawna. REBIS is to be complemented for taking on such a hot and controversial subject.