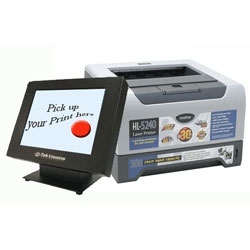 Philipsburg, PA, June 07, 2007 --(
PR.com
)-- Global Software Applications (GSA) announced today a new product for public printing in hotspots or hotels. "iPRINTHERE" is a public print station, consisting of a Laser Printer and POS system. Its purpose is to capture the print jobs issued by wired or wireless users on the network and release the print job at the public print station after the owner of the print job entered their unique PIN#. To recoup the investment of the system and disposables of the printer the facility owner can choose to set a charge per print. iPRINTHERE is a Turnkey, Plug and Play package and is now for sale at http://www.iprinthere.com.
The iPRINTHERE station is in the same Hotspot or Hotel as where the user issues his print job. He only needs to enter his PIN# at the POS system. "The user prints directly to the print station and iPRINTHERE doesn't use the facilities' resouces like printer and staff," said Ron Koning, Vice President of Global Software Applications, "iPRINTHERE is a truly self service unit".
"iPRINTHERE fills a gap, by offering local print services to the wireless users" said Ron Koning, "And conveniently, the location can charge for the prints through the Credit Card Payment Processing System that is part of the POS."
iPRINTHERE is also digital signage enabled, which means that in idle the station can rotate local advertisements or announcements.
About Global Software Applications (GSA)
GSA, a privately held company based in Philipsburg, Pennsylvania, creates business center computer software (Internet Kiosk software) distributed by its dba SurferQuest. The company further specializes in custom-made software for Self-Service systems, Wayfinder and other dedicated applications.
###