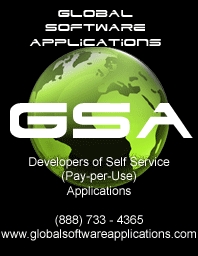 GSA's mission is to provide integrated computer hardware and software solutions and programming services for the self service industry and is specialized in Pay-per-Use applications.
Global Software Applications, LLC is a privately held company, based out of Pennsylvania USA with customers out of the USA, Canada, Australia, Iceland, Aruba and Jamaica.
GSA's customer base is from the industries: Hospitality, Travel, Insurance, Banking, Tele-Marketing, Food/Retail, Transportation, etc.
Product developments: SurferQuest Kiosk Software, Here2There Wayfinding, iPRINTHERE Public Print Station and Missingkidsaver screen saver.
www.globalsoftwareapplications.com
www.surferquest.com
1- 888 - 733 - 4365