Memorial Day Roses Honor Those Who Have Given the Ultimate Sacrifice
Phillip's Flowers and Dignity Memorial to Distribute Thousands of Free Roses at Chicago Area Memorial Day Services.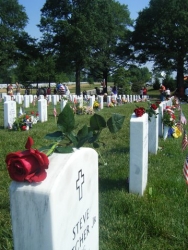 Chicago, IL, May 16, 2012 --(
PR.com
)-- Every Memorial Day, many in our communities visit local cemeteries to pay their respect to those who served in the United States Armed Forces.
This Memorial Day weekend, Phillip's Flowers, Dignity Memorial, and thirteen Chicagoland cemeteries will be giving out more than 3,000 free roses at ceremonies to honor those who have served and their families.
Part of a nationwide floral tribute, involving hundreds of local florists and community ceremonies across the U.S., visitors to these Memorial Day services will be given a fresh Ecuadorian rose, while supplies last, to place on a headstone or take home as a comfort. The roses are being flown in especially for the events.
"Many local cemeteries support a variety of good causes," said Howard Paterson of Memory Gardens in Arlington Heights, "but we are especially honored to participate in this outpouring of expression to honor the people and families that have given the ultimate sacrifice for our country."
"Roses are an ageless symbol of caring," said Russ Phillip, Sr. of Phillip's Flowers, "so we're delighted to be able to help contribute them as a tribute to the fallen and a comfort to their loved ones, as well."
In the Chicago area, the roses will be given out on Sunday, May 27 at Mount Auburn Cemetery in Stickney (10:00 am) and on Monday, May 28 at Memory Gardens Cemetery in Arlington Heights (8:00 am), Memorial Park Cemetery in Skokie (8:00 am), Ridgewood Cemetery in Des Plaines (9:00 am), Rosehill Cemetery in Chicago (10:00 am), Mount Emblem Cemetery in Elmhurst (11:00 am), Chapel Hill Gardens West in Oakbrook Terrace (1:00 pm), Elmwood Cemetery in River Grove (1:00 pm), Oakland Cemetery in Dolton (10:00 am), Oakwoods Cemetery in Chicago (10:00 am), Evergreen Cemetery in Evergreen Park (10:00 am), Chapel Hill Gardens South in Oak Lawn (11:00 am), and Chapel Lawn Cemetery in Schererville, Indiana (11:00 am).
Phillip's Flowers (PhillipsFlowers.com) is a fourth-generation family-owned florist with ten locations in Chicago and suburbs that deliver flowers throughout Chicagoland and nationwide. Dignity Memorial (DignityMemorial.com) is North America's largest provider of funeral, cremation, and cemetery services, caring for more than 300,000 families each year through a network of more than 1,600 local providers.
For additional information on Memorial Day services, contact the cemeteries in your local area above.
Contact
Phillip's Flowers & Gifts
Baxter W Phillip
630-719-5169
www.phillipsflowers.com

Contact