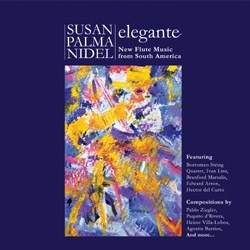 New York, NY, May 17, 2012 --(
PR.com
)-- Elegante, New Flute Music from South America, is a pioneering recording conceived and performed by Susan Palma Nidel the renowned flutist of the Orpheus Chamber Orchestra. Ms. Palma Nidel has appeared on more than 100 recordings in her illustrious career, many as a soloist, mostly for Deutsche Grammophon (DGG) and her recording of the Mozart Flute Concertos has been listed by Gramaphon Magazine as the greatest rendering of the pieces of all time. Elegante is the debut solo recording for Ms. Palma Nidel as a leader, and is a foray into New World Music. Guest performers include Ivan Lins (vocals), Branford Marsalis (soprano and tenor Sax), Leo Amuedo, Chico Pinheiro, Quique Sinesi (guitar, violao), Edward Arron (cello), the Borromeo String Quartet, Nilson Matta (bass), Hector del Curto (bandoneon), and Cyro Baptista & Cafe (percussion).
Elegante features compositions by Ivan Lins, Pablo Ziegler, Paquito d'Rivera, Heitor Villa Lobos, Agustin Barrios and Quique Sinesi. The recording is a cohesive, yet diverse journey through various musical genres from South America and the Caribbean including Brazilian MPB, Nuevo Tango and Cuban Son all performed expertly with a classical sensibility, a recording of rare beauty and virtuosity that will inspire listeners to cry, laugh and dance.
Throughout her career Susan has enjoyed a variety of musical challenges and today is busier than ever taking on new projects. Her resume is one of a model citizen in the classical music world, too long to recite here, but some highlights are in order.
Since 1980 Susan has been an esteemed flutist of the world renowned Orpheus Chamber Orchestra and is the principal flutist for the New York based American Composer's Orchestra and the Naumburg award-winning group Speculum Musicae. She has performed on the most prestigious stages all over the world both as a soloist and with Orpheus. She is a founding member of the North Country Chamber Players who perform in the White Mountains of New Hampshire where she resides every summer.
Susan has premiere works by Elliott Carter, Milton Babbitt, Steve Mackey and many other contemporary composers. She has always been infatuated by music from around the world, particularly the varied forms of Brazilian music and Tango. Since the late 1990s she has collaborated and performed with many renowned World Music and Jazz artists including Branford Marsalis, Pablo Ziegler, Hector del Curto, Cyro Baptista and Café who have inspired her to move in a new direction represented by Elegante.
In addition to her musical prowess, Susan is an accomplished painter. The cover of Elegante is a photo of her miniature acrylic entitled Tango and other dance inspired works can be seen inside the CD booklet. A dedicated educator, Susan is on the faculty of Columbia and Montclair State Universities. She lives in New York City with her husband, the writer, wine aficionado, music producer and sometime lawyer Richard O. Nidel, and, as all her friends well know, she wears secrets in her hair.
Available now at iTunes and
www.flutewineproductions.com