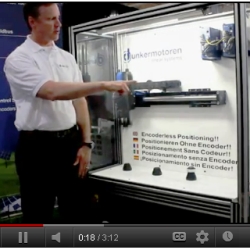 Elgin, IL, May 18, 2012 --(
PR.com
)-- A new three minute video on the Dunkermotor website lets design engineers visualize the application potential for tubular linear servo motors. Designed for high speed and acceleration actuator applications, the Dunkermotor ServoTube linear motors employ solid state sensing to provide encoderless position information with repeatability of 12 microns (about one-eighth the diameter of a human hair) and speeds up to 250 inches per second.
Traditional electromechanical linear drives (gear, ballscrew, belt) can be slow, noisy or inaccurate, and pneumatic or hydraulic linear actuators can introduce possible contamination while providing less than optimum position and speed control. Direct drive linear electric motors, on the other hand, have tended to be expensive, difficult to install or less than ideal in applications where temperature, hygiene, noise or low maintenance are important.
There are essentially three types of linear motor: flat-bed, U-channel and tubular. The flat-bed delivers high force but suffers from cogging, which limits the smoothness of motion and creates velocity ripple. The U-channel eliminates cogging but is thermally inefficient as its heat generating coils are enclosed in magnets. By design, the Dunkermotor ServoTube linear motor eliminates these issues.
The Dunkermotor ServoTube is constructed of two simple parts, a rod and a forcer. The stainless steel rod is filled with rare-earth magnets placed end to end. The forcer incorporates a series of coils connected as three phase windings, which generate linear force when excited. This design balances the magnetic forces for smooth, cogging-free motion, while the forcer coils have a built-in heatsink and wrap around the magnets for optimal heat dissipation and use of the magnetic field.
The easy-to-use form factor of the ServoTube linear motor coupled with its highly cost-effective internal feedback now brings the high performance and mechanical simplicity of linear motors to mainstream industrial applications. This new three minute video demonstration of the ServoTube motors and actuators in a pick and place application may be viewed on the Dunkermotor website at
www.dunkermotor.com/videos
.
About Dunkermotor:
Headquartered in Elgin, Illinois, Dunkermotor is the North American sales, technical support and logistics subsidiary of Dunkermotoren GmbH, for 60 years the global quality and value leader in customized, configurable sole-source fractional horsepower motion control solutions composed of BLDC, PMDC and AC electric motors, gearmotors, controls, encoders and brakes, as well as linear motion solutions. With headquarters in the Black Forest in Bonndorf, Germany and production and/or logistics facilities in Europe, Asia and the U.S., Dunkermotoren employs 1000 globally and produced over 3.4 million motors in 2011 for the factory and commercial automation, specialty machinery, medical, solar power, packaging, semiconductor, and mass transportation industries.