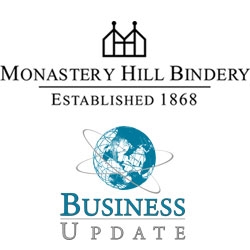 Chicago, IL, May 25, 2012 --(
PR.com
)-- Monastery Hill Bindery announced today that they would be featured in an upcoming episode of Business Update.
Founded in 1868, Monastery Hill Bindery stands as a historic testament to the power of hard work, quality and family in business. Originally a bookbinding business, Monastery Hill Bindery now serves the restaurant and hotel industries by providing high quality menu display items.
This particular segment will focus on how the high levels of quality and craftsmanship are helping keep Monastery Hill Bindery ahead of an industry that is quickly evolving.
"Monastery Hill has been on the cutting edge in helping our customers worldwide to maximize the impact of their Menu presentations," said Blair Clark, president of Monastery Hill Bindery. "We are thrilled to be part of this Business Update series."
"Monastery Hill has a wonderful history, and their commitment to detail is impressive," said Charles Cowan, producer for the series. "I'm truly excited to present this organization to the Business Update audience."
About Business Update:
Business Update is a corporate-America type series covering the world of business, finance and technology. From Main Street to Wall Street, our award-winning producers take an in-depth look into some of the hottest topics and current trends impacting our society.
For more information visit: www.dmgproductions.org or call (866) 496-4065.
About Monastery Hill Bindery:
Monastery Hill Bindery is a 145 year old family owned business that specializes in providing high quality bindery items to the Hotel and Restaurant industry. Their custom covers combine unique design capabilities with proven durability.
For more information, visit: www.monasteryhill.com
Media Contact:
Pennie Clark
773 525 4126