High Oil Prices Cause Higher Prices for Canvas Tarps
Higher prices on oil mean higher prices for products like tarps. Leading tarp supplier Tarps Plus vows to keep prices the same.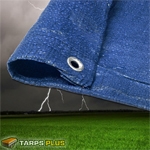 Los Angeles, CA, June 13, 2012 --(
PR.com
)-- It has come as a sort of surprise to some consumers that high oil prices cause higher prices for canvas tarps. This may seem like a counter-intuitive argument seeing that these tarpaulins are the exact opposite of polyethylene tarpaulins. Polyethylene tarpaulins are made from oil byproducts while canvas tarpaulins are, obviously, made from natural fibers.
In the early days of poly tarps, the low oil prices did lead to a rise in the production of low cost tarp covers. This inevitably led to an decrease in prices for those customers looking for quick fixes. The fact that polyethylene was not as durable didn't seem to limit a good number of consumers who found the prices attractive.
A factor that has propelled the rise in
tarps
made from natural materials is the need to make them more frame retardant. The chemical treatment that is required to make the natural material be immune to destruction under high temperatures is considerably expensive. Although there may be no direct relationship between the recent oil prices increase in the hiking up of the tarpaulins, it is nonetheless a coincidental happening.
Products like tarps have gone up in price due to the higher cost in oil. A leading U.S. tarps supplier Tarps Plus vows to keep prices the same despite the higher cost. Tarps Plus Sales manager Steve Benson says, "We need to keep our prices on tarps the same as long as we can to make sure our customer base is solid."
As the hurricane season is not too far off, getting material that is robust enough is of utmost importance. There is a new line of products shipping at the moment with a number of superior features. These include full UV treatment that ensures longevity and ability to withstand inclement weather.
With increasing environmental awareness making customers insist on products that are not harmful to the environment, it is becoming necessary to provide products made from natural fibers once more. This has predictably led to higher prices for canvas tarps as there are not many manufacturers with capacity to meet the demand. However, savvy customers can get low priced alternatives if they source their products from the best stores that have variety of suppliers from around the world.
Contact
Tarps Plus
800-838-3057
www.tarpsplus.com

Contact