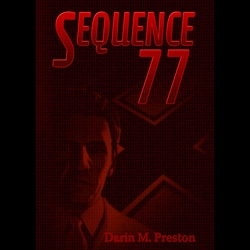 Fond du Lac, WI, June 14, 2012 --(
PR.com
)-- In the new contemporary fiction Sequence 77, author Darin M. Preston dares to take a hard look at the illusions that are part of our reality, and shatters them to bring the truth into focus. He looks into our past and exposes the atrocities of hate, and their exorbitant effect on one man. This is a gripping, provocative work that blends characters from a variety of backgrounds and ethnicities toward one goal of overcoming a very potent and unexpected danger. Beyond being heard, the ideas expressed in Sequence 77 spur a reaction and discussion within our society today.
Darin M. Preston wrote Sequence 77 because of its refusal to stay dormant in his mind. Characters, scenes, and story line became fully developed and realized in the author's imagination and forced their way to written word. For it is the real world where they belong—to be shared and openly discussed. In his first fiction release, Darin has accomplished the work of a seasoned storyteller, harmoniously weaving together various elements of the story, and resulting in a stimulating and memorable experience for the reader.
As a school psychologist, Darin M. Preston fills the roles of advisor, counselor, and program supporter in the Fond du Lac, Wisconsin school district. While Fond du Lac is a predominantly white community, the population of minority families is growing rapidly. Students, teachers, and community must all learn to adjust to the influx of new ideas and unfamiliar cultural expectations. As school districts move to keep pace with the changing times and demographics, Darin offers his support to all within the system, and community, who are ready to embrace the future of diversity.
Come to Creative2aT.com, the publisher's Web site, to explore with Darin M. Preston in Sequence 77 the power that lives inside all of us, and which can be focused toward positive goals for humanity.
Creative 2 a T, Inc. dba Lucid Style Author Services is a private publisher bringing a family of great talents together, both authors and artists, in the production of quality literature. Lucid Style produces products with a reflection of time and great care and quality in creations that reach generations from the hearts of the authors and illustrators who invest their talent into these arts.
To gain information on the writing of Darin M. Preston, please contact Jean Turman by email at LucidStyle@Creative2aT.com or by telephone at 817.753.2236. Any interests for scheduled interviews or book discussions with the author can also be organized through Jean Turman.