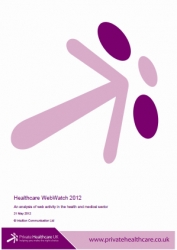 London, United Kingdom, June 16, 2012 --(
PR.com
)-- The report, "
Healthcare WebWatch 2012
," published by Intuition Communication analyses web activity including search and online destinations within the health and medical sector in the UK and takes in 1,769 UK-based websites. The study found that 21 of the top 50 health-related searches concerned obesity, dieting, weight loss or getting fit.
For searches regarding specific diseases or medical conditions, chickenpox was the most regularly searched-for, followed by shingles and diabetes.
In other key findings:
· NHS Choices is the most visited non-commercial site in the health and medical sector in the UK, followed by Patient UK, Netdoctor.co.uk, Yahoo Health and BBC Health. NHS Direct, currently the subject of a government review, ranks 7th.
· Including commercial sites, the top five are NHS Choices, Boots, Weight Watchers, Patient UK and Netdoctor.co.uk. NHS Direct ranks 16th, below brands such as Holland & Barrett, BUPA and Specsavers.
· Surprisingly, the most common search terms for cosmetic surgery were not procedures but brand names "Transform", "Harley Medical Group" and "MYA," followed by "Cosmetic Surgery" and in fifth place "liposuction."
· After "liposuction," the most popular cosmetic procedure searches were for "breast implants," "tummy tuck," "laser hair removal" and "breast enlargement."
· Company names dominate the common search terms driving traffic to health insurance sites.
· Health and medical web sites attracted a significantly greater proportion of female visitors (52.9%) than web sites in general (47.1%)
· 40.4% of visits to health and medical web sites in the UK were made by people who are over 45
The Healthcare WebWatch 2012 report is published by UK health information portal
Private Healthcare UK
. This is the fourth annual Healthcare Web Watch survey, designed to provide a snapshot of the health issues web users are concerned about and the health and medical sites that the UK's web users are visiting. You can
download the full WebWatch 2012 report as a PDF
.
The report is compiled using data from Experian Hitwise, based on a pre-defined Health and Medical market sector consisting of 1,769 UK based websites. The data used in the study was collected in the three months to 21st April 2012.
Keith Pollard of Private Healthcare UK comments:
"This year's report shows the increasing problem that the country faces in dealing with obesity, and how more and more people are seeking advice and guidance over the internet; but it's encouraging to see that people are making positive moves towards self-help through the matching activity related to exploring and improving fitness levels.
"It's also interesting to note that the areas people are most interested in are those that are least served by both the NHS and by UK private medical insurance providers, despite the UK being one of the fattest nations in Europe. Perhaps these results show that people are keen to find out how to make changes themselves."
For all media enquiries please contact Steve Bustin at Vada Media on 07803 729208 or steve@vadamedia.co.uk.
Notes for editors
About Private Healthcare UK
Private Healthcare UK is the UK's leading portal to information about private health care services, medical information, news resources and insurance and attracts around 400,000 visitors a month. The report reveals that the Private Healthcare UK website commands a consistently high position on search engines was the top recipient of traffic for key private treatment related terms in the health and medical sector.
About Experian Hitwise
Information for the survey was gathered by Experian Hitwise over a 12 week period from February to April 2012. Experian Hitwise collects data from Internet Service Providers (ISPs) to understand how UK consumers are using the web and monitors activity by a quarter of the UK Internet population; the Health and Medical market is pre-defined by Experian Hitwise and consists of 1,769 UK based web sites.
Hitwise collects web usage statistics from a geographically diverse range of ISP networks in metropolitan and regional areas, representing all types of Internet usage including home, work, educational and public access.