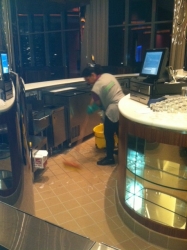 Phoenix, AZ, June 21, 2012 --(
PR.com
)-- Many people don't realize just how many germs are covering your office space. However, who knew that germs and bacteria affected offices with different genders differently? A recent scientific study conducted by scientists at the University of San Diego and University of Arizona, has shown that if you are a man your workspace is more likely to be full of bacteria than if you are a woman. Researchers visited over 90 different office buildings to study the level of
office cleaning in New York
, San Francisco, and Tucson. The study inspected the phones, keyboards, chairs, desktops, and computer mice and found over 549 different types of bacteria present. Most of the bacteria were found on the chairs and on the phones.
Even though researchers had found all of these different types of bacteria coming from human insides they reported that it is unlikely humans will become sick from it unless they have weak or compromised immune systems. Another interesting fact that came from the study is that some of the bacteria they found also came from different soils carried in by the workers. The reporters stated that the reason for the gender difference is that since men are on average so much larger than women they have more skin to shed or it could just be simply that women have better hygiene then men. "Men are known to wash their hands and brush their teeth less frequently than women, and are commonly perceived to have a more slovenly nature," the researchers wrote.
Phoenix based Commercial Janitorial is a company that has seen its share of dirty offices in the last decade, has seen this situation first hand. "Offices that are primarily men tend to be dirtier environments," stated Will Scholtz Director of
Office Cleaning in Philadelphia
. Essentially male dominated offices are going to be havens for germs. And because of the fact that illness is a major productivity reducer, companies are best served by taking steps to reduce exposure to disease causing organisms.
Some green office cleaning companies even take this approach a step further by only using green cleaning techniques for general cleaning and disinfecting, further eliminating possibly health hazards such as VCT and other airborne particulates. "Green cleaning plus a germ free environment makes for one happy and healthy office. A happy and healthy means higher productivity," Scholtz explained.