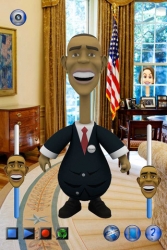 Boston, MA, June 22, 2012 --(
PR.com
)-- Introducing "Throttlenecks™ the App" which is currently available on the App Store under Throttlenecks™. Politics Full Throttle, LLC's mission is to bring humor to today's highly sensitive and polarizing political climate. The apps are non partisan and all quotes are documented but with a new spin on making it fun.
Politics Full Throttle, LLC, is now offering an App for the iPhone and iPad that can be available anywhere at anytime. The ultimate virtual conversation piece! So, if there is ever the need to de-stress or just in need of a laugh, press the button, swipe the arm, raise their thumb, spin 'em around, or simply throttle the neck, either way it's available all the time...go ahead it's not going to hurt and it will produce a laugh.
ThrottleNecks™ App also speaks documented phrases that the selected politician has said. Plus, the App can record spoken phrases and the ThrottleNeck character will say it back. The piece de resistance, with the paid app a picture can be taken with the character anywhere. ThrottleNecks™ are everywhere the user wants them to be via email or social media. Like Obama on the Baja, Mexico/California boarder fence.
Governor Romney APP due July 2012!
www.throttlenecks.com
. Find the App at
http://itunes.com/apps/throttlenecks
.