Sportbikes 4 Hire Announces New Branch Servicing Asheville, NC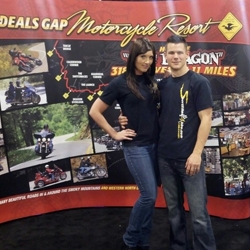 Asheville, NC, June 27, 2012 --(
PR.com
)-- This spring, Sportbikes 4 Hire is proud to announce the opening of its new branch serving motorcycle enthusiasts in Asheville, NC. This expansion will allow Sportbikes 4 Hire to serve a greater area in Western North Carolina, in addition to its branches currently serving customers in Eastern Tennessee. Sportbikes 4 Hire offers a fleet of nearly a dozen motorcycles that are available for rent, in addition to offering personal delivery of the bikes.
"We're thrilled to be kicking off our Asheville branch," said Greg McCoy, owner of Sportbikes 4 Hire. "Asheville is a very popular destination for motorcyclists with scenic places like the Blue Ridge Parkway, so now visitors to Asheville, or even locals who have friends visiting from out of town, will have the opportunity to rent motorcycles from us for their trips and excursions."
The fleet of motorcycles that Sportbikes 4 Hire offers includes not only sportbikes, but also cruisers like the Kawasaki Vulcan and Suzuki Boulevard, and even sport/touring bikes like the Kawasaki Concourse. The business looks to meet the needs a variety of different kinds of motorcycle riders, and also offers gear available to those who rent bikes including helmets, jackets, leather suits and gloves. Motorcycles and gear are delivered directly to the renter of the bike, which offers a high level of convenience. "I suppose you could compare me to a pizza delivery guy," said Jud Merrell, manager of Sportbikes 4 Hire's Asheville branch, "except instead of pizza, I'm delivering and picking up motorcycles."
Sportbikes 4 Hire has already received demand for their business in Asheville and has started scheduling and delivering rentals there. "We think this business has a lot of potential in the Asheville area, and we're looking forward to getting more involved in the local motorcycle community here. You may see us at bike nights and events," said Merrell.
For more information, or to rent a bike, visit www.sportbikes4hire.com or call 888-914-HIRE.
About Sportbikes 4 Hire
Sportbikes 4 Hire is a full service motorcycle rental company operating in the Eastern Tennessee and Western North Carolina areas offering a variety of rental bikes, rental gear and bike delivery and pick up. Sportbikes 4 Hire prides itself in offering exceptional customer service and a great selection of quality rental bikes in top condition.
Contact
Sportbikes 4 Hire
Jud Merrell
888-914-HIRE
www.sportbikes4hire.com
Sarah Merrell - (828)231-3963 or sdesforge@gmail.com

Contact