Unify All Your Storage Clouds with SME Windows Phone Cloud File Manager App
SMEStorage have updated their Cloud File Manager App, which enables management of all Cloud Storage services from one App from a file system interface.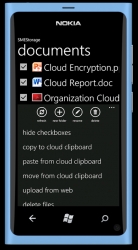 London, United Kingdom, June 27, 2012 --(
PR.com
)--
SMEStorage
has updated their Windows Phone Cloud File Manager App to enabled easy management of Storage Clouds such as Google Docs / Google Drive, Dropbox, Box, Azure, Amazon S3 etc.
SaaS services that enable storage such as BaseCamp are also supported and in total, over 35 Storage and SaaS Clouds are supported.
SMEStorage also give a free 5GB free storage hosted on Amazon S3 for every user that purchases the App.
When files are spread across multiple cloud services, managing them can be challenging and involve numerous different applications. With the SME App copying a file to the device or between services is as easy as selecting to copy it to the clipboard and the pasting to another service.
Cross-service search is another unique feature of the App. This enables users to type into the search box and get a listing of all results for files that are stored across all cloud services.
The unique direct upload upload feature is able to upload files from the web directly meaning there is no need to download the files on the desktop and then and then upload. All that is required is to enter file address and the App will upload it in the background.
Files from different clouds can be opened directly in the device or Microsoft Office, Media Player etc., or a number of office and other file types can be viewed directly from the App, without ever needing to download them, using the 'Cloud View' feature.
Other features include recording audio and taking notes and then sync back to the chosen cloud, and 2-way picture sync with different clouds.
CEO Ian Osborne commented, "We are starting to see much interest in the Windows Phone app as a client for use within companies who use our
Cloud File Server
and
Hybrid Cloud Appliance
. We are sure that the newly announced business features will drive this adoption further. We were one of the early companies who released an App for Windows Phone. We believe the App is a great example of the power of Cloud and mobile working on smartphones phone handsets and we look forward to continue enhancing it."
The SME Cloud File Manager is available now from the Windows Marketplace.
Marketplace link:
http://www.windowsphone.com/en-US/apps/a6e4caf1-4834-4537-a628-9649c41985ce
Contact
SMEStorage
Ana Foncea
0044 709-220-7207
www.smestorage.com

Contact