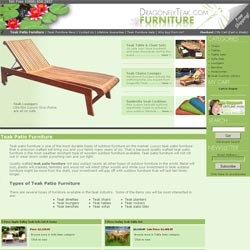 Orlando, FL, June 18, 2007 --(
PR.com
)-- While May and June tend to be hot months for teak patio furniture sales, the recent increase in sales for Dragonfly Teak has really made company heads spin. "We are so enthusiastic about our recent numbers," says Rima LeBlanc who heads operations for the various
LeBlanc Global
retail furniture websites. "We expected May to be good, but it was hard to imagine it would be this good."
While Mrs. LeBlanc did report that some teak patio furniture items were being tagged for customers before they even hit land, the brunt of their orders were being fulfilled in a timely manner.
Teak patio furniture
is known for its ability to stand up to outdoor use, however, teak's higher price tag makes it cost prohibitive to those with little disposable income. "In the end," claims Rima, "those who buy teak actually end up saving money in the long run, because teak can last for decades if properly cared for."
While ship builders have long recognized teak's properties and used teak in the building of many wooden vessels, it has become a precious commodity as demand has increased.
Still, Dragonfly Teak appears to offer extremely competitive prices when measured against their competition. Whether prices continue to rise for plantation grown teak wood, depends on fuel and other global trends as much as it depends on supply and demand.
###