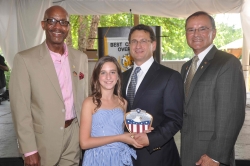 Atlanta, GA, June 29, 2012 --(
PR.com
)-- David R. Montlick, CEO and Founder of the well-regarded Georgia Personal Injury Law Firm Montlick & Associates, has been awarded the 2012 Southeast Patriotism Award from the Association of the United States Army. In addition to receiving the award, Mr. Montlick was the keynote speaker at the Atlanta Chapter's Annual Award Ceremony and Luncheon, which was held in Piedmont Park on May 20, 2012.
In presenting the 2012 Southeast Patriotism Award, COL (Ret) US Army, and President Greater Atlanta Chapter, AUSA, Charles Guta cited Mr. Montlick's ongoing support of the military, including his firm's production of over 300 Tribute to the Troop television messages which have collectively aired thousands of times across the state; providing attorney volunteers to advise Military Veterans about benefits, and awarding complimentary Orlando, FL vacation packages to dozens of military families as part of an annual contest with WSB TV, Channel 2 in Atlanta.
The program for the AUSA's 2012 Awards Ceremony and Luncheon, entitled "Our Community Salutes," included special recognition for the 12 Atlanta Public High School seniors who have recently enlisted in the military. In his keynote speech, Mr. Montlick addressed the graduates, along with all the soldiers in attendance and their families. "To me, the military is the national embodiment of honor and integrity, in addition to so many other important virtues, such as respect, loyalty and dedication. Service is another one that comes to mind as I look out at all of you, and it is something that is very important to me as well."
Mr. Montlick also shared the following personal story: "When I was in elementary school, I received a special coin in recognition of some accomplishment. I can't remember anymore why I was given the coin, but I've kept it all these years because of the inscription on the coin's presentation case. When I read it, you will understand why it means a lot to me. It reads, 'Ask not what your country can do for you; ask what you can do for your country.' These words - from President Kennedy's famous 1961 Inaugural address – represent service of the highest order. And that is what you do every day when you go to work for our country."
Prior to the keynote speech, Mr. Montlick's daughter Jolie Montlick, age 10, played the guitar and sang for the troops. Jolie Montlick received a standing ovation for her performance of "God Bless the USA" (also known as I'm Proud to Be an American"). Both Mr. Montlick and his daughter received a medal of "Excellence" from Command Sergeant Major Nelson of the Army National Guard for the State of Georgia. Jolie recently filmed a
music video
with a cast of over 150 for a song she wrote to help fight bullying, that also honors Country Music star Taylor Swift. (Mr. Montlick was the producer, and the firm sponsored the video because of its potential to empower kids across the country to take positive actions in the face of bullying). Jolie is a National Spokesperson for The A4K Club, The Ambassadors for Kids Club, an anti-bullying organization (a4kclub.org).
Montlick & Associates has a long history of supporting the nation's military, and is proud to have been named the 2011 Most Patriotic Business by the Association of the United States Army. To learn more please visit www.montlick.com/supportingourtroops. The firm also has an extensive history of community service, with programs focused on helping families prevent injuries (www.montlick.com/communityservice).
Since 1984, the Georgia Personal Injury Attorneys from Montlick & Associates have made it their goal to be the best auto accident law firm in the State of Georgia. Our Atlanta, Georgia law firm represents families and individuals who suffer from catastrophic injuries in all types of cases involving personal injuries. No matter where you live in Georgia or the southeast, if you have been seriously injured in an accident involving negligence, drunk driving, or any other reckless behavior, our caring and compassionate team of lawyers is here to assist you. Please call us 24 hours, 7 days a week including weekends and holidays at 1-800-LAW-NEED for your free consultation, or visit
www.montlick.com
and fill out our Free Case Evaluation form or use our 24-Hour Live Online Chat.