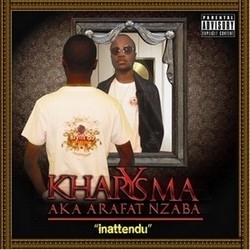 Paris, France, July 05, 2012 --(
PR.com
)-- It's official, the date has been announced. The album, entitled 'Unexpected' or 'Inattendu' in French; will be released August 21st, 2012 in stores online and in stores. Listeners have the opportunity to recall the long way already traveled by listening to only a few tracks of this album. Arafat Nzaba aka kharYsma is currently France's No. 1 rapper under the style of rap morale. And when we speak of moral-rap, you think 'kharYsma aka Arafat-Nzaba'.
In March 2012, label GBT / Klym records (http://www.groupe-businesstherapie.com/) launched the promotion of Inattendu. The album will be released this August 21, 2012 on all platforms to download, in both French and American shops and elsewhere.
Recall that the singles "Big up, Big down" and "Que ta volonté se fasse," both extracts from this album, were ranked respectively first and second outputs from their radio play.
In stores this summer 2012, this CD will ignite your evenings and caress your ears in headphones iPods, CD players.
Currently on backorder, http://www.r-b-a.fr/, there are also special offers such as a CD + Autograph + Kisses on the CD with lipstick, or 1CD + Autograph + Photograph with kharYsma and composition of a song about your life to discover on http://www.kharysma-an.fr/.
Amazing rhythms, and a powerful energy flow, a video clip light, fun and a whopping CD to consume all emergencies on the dancefloor, is what the album 'Inattendu' promises of 'Arafat-NZABA aka kharYsma'. It is up to you to discover, and reach music lovers around the globe: the USA via France, Ireland, Italy, Congo, Africa, because all vibrate to the rhythm a single album: Inattendu of kharYsma aka Arafat-NZABA.
Live performance (showcase) of kharYsma:
http://youtu.be/wQMWbG5akdQ
Advertising of Inattendu 'Album':
http://youtu.be/WDc4WOe1ARY