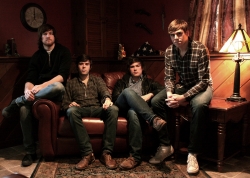 Los Angeles, CA, July 19, 2012 --(
PR.com
)-- Wilbraham-founded Rock/Indie-Folk band, The Gallery, has announced plans for its second full-length studio album. The record is set to be recorded this August with producer/engineer Warren Huart, who recently finished work on the much-anticipated new album from Boston's Aerosmith. Huart's previous work also includes records from such well-known acts as The Fray, James Blunt, and Augustana, in addition to The Gallery's 2011 EP, "Come Alive." The Gallery's album will be recorded at Swing House Studios in Los Angeles, CA.
Due to the high costs of professional-quality studio recordings, The Gallery has launched a fundraiser on IndieGoGo.com, a crowd-sourced funding site aimed at helping musicians and other creators raise the funding needed to make their projects a reality. The band hopes to raise $12,000 between now and July 30, 2012 to cover some of the recording costs and make this album feasible. In exchange for contributing to the project, backers will be rewarded with various perks, ranging from a digital download of the new record with just a $5 donation, to limited edition band t-shirts & hoodies, the name of the donor in the album liner notes, custom-created artwork by the band's bassist and graphic designer, or even the opportunity to stop by the studio. All backers also receive access to members-only content updated regularly during the recording process.
Please help The Gallery fund this album today by backing the project at
http://www.indiegogo.com/thegallery
Should The Gallery meet its funding goal, the band expects to release the new record early this fall. The band also hopes to visit Massachusetts for a hometown show this fall, during a break from a busy recording and touring schedule. Over the past few years the band has played numerous local venues, including Northampton's Iron Horse Music Hall and Chicopee's Maximum Capacity.
The Gallery's previous release, 2011's Come Alive EP, helped the Wilbraham-founded band gain recognition on both a local and national level. The band received press in Rolling Stone Magazine, Alternative Press, and AOL's Spinner, as well as numerous Massachusetts newspapers. The Springfield Republican described "Come Alive" as a "gut-kicking trip of sheer rockin' splendor," while the Valley Advocate commented the "music inhabits a rootsy end of the flow chart, employing big guitar crunch and radio-friendly melodies with a heavy nod to Tom Petty." In addition, The Gallery gained recognition for it's songwriting prowess through the International Songwriting Competition, earning finalist nods two years in a row in "Rock" and "Triple A – Adult Album Alternative" categories.
Who: The Gallery
What: New Album & Fundraiser
Where: Back The Gallery's Album To Help Make It A Reality & Earn Rewards At:
http://www.indiegogo.com/thegallery
When: Fund The Record Now Through July 30
Album To Be Released Early Fall
Visit http://www.thegallerymusic.com/pressphotos.zip for hi-res photos.