Shipload of Oshenite™ Ultra-Pure Renewable Performance Mineral Arrives for Plastics Industry
Oshenite™ from U.S. Aragonite Enterprises begins processing for plastics market orders leading to product in the market using this cost savings renewable resource.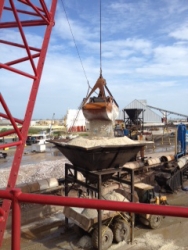 Salem, MA, July 19, 2012 --(
PR.com
)--
U.S. Aragonite Enterprises
is now making available to the plastics industry commercial quantities of the world's only renewable performance mineral satisfying market interest generated over the past 12 months. The first ship load, containing 15,000 tons of ultra-pure Oshenite™, just arrived in Houston, Texas for processing.
"This is a major step for our company," comments U.S. Aragonite's COO, Marc Goldenberg, "The plastics industry has been testing our unique material in a wide range of molding, thermoforming and flexible film applications for more than a year. Production and testing by manufacturers, processors and stake holders has confirmed Oshenite™'s excellent performance, as well as economic and environmental benefits. In some applications Oshenite™ can be used at up to 50%, significantly reducing dependence on more expensive fossil fuel based resins."
U.S. Aragonite's partner, Bayshore Industrial, will compound the renewable ocean-sourced material at its 250,000 sq. ft. facility in La Porte, Texas. The facility has over 100 MM lbs. of Oshenite™ compounding capacity annually and will be ready for shipment to customers within the next 30 days. Todd Hartranft, head of Oshenite™ sales at Bayshore reports "We are ready to supply master batches produced with different carriers and are prepared to supply large quantities by truck or rail."
Contact
U.S. Aragonite.com
Lotte Bowie
410.708.9010
www.usaragonite.com
Marc Goldenberg
COO, U.S. Aragonite Enterprises
marc@usaragonite.com
978.745.8876

Contact