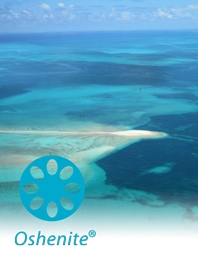 U.S. Aragonite Enterprises is the exclusive supplier of Oshenite®. The Oshenite® renewable performance mineral offers economic, performance, environmental and marketing benefits for processors, brand owners and stake holders in plastics.
The source of Oshenite® is the naturally occurring perpetual precipitation of oolitic calcium on the Bahama Bank which creates a continuous supply of ultra-pure minerals with a unique crystalline structure.
Oshenite® can replace resins at high concentrations in plastics and its physical properties bring distinctive bonding and carrier properties in applications. It can represent a solid foundation for bioplastics without supply issues. Because it is created naturally without any mining impact to the environment, there is less carbon footprint, less energy expense involved.
Oshenite® is reinventing plastics. For more information:
http://www.usaragonite.com/
978.745.8876