Shanklin Shrink Wrap Equipment Now Offered by Crawford Provincial Packaging Equipment
Shanklin Shrink Wrap Equipment and Heat Tunnels Get Thumbs Up Approval. Shanklin Shrink Equipment Now Added to the Quality Product Lines of Toronto's Leading Packaging Equipment Distributor.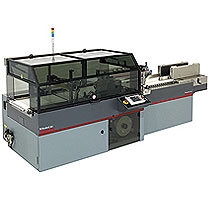 Toronto, Canada, July 26, 2012 --(
PR.com
)-- Crawford Provincial - Packaging Equipment expanded its shrink wrapping equipment offering by adding Shanklin shrink equipment to its already extensive product line. Crawford Provincial's customers now have more quality solution options in which to easily enjoy the benefits of shrink wrapping their products for easier and more convenient distribution to their markets.
The new additions to Crawford Provincial's shrink equipment product line include the Shanklin A-26 Automatic L-Sealer, the Shanklin A-27A L-Sealer with T-7H Shrink Tunnel, the Shanklin Triumph 2 form fill sealer with T-71 Shrink Tunnel and the Shanklin Omni form fill seal wrapper. The A-26 and A-27 are user-friendly, entry-level L-sealers that are versatile enough to handle a wide variety of shrink wrap packaging requirements. The Triumph 2 can handle more advanced packaging needs, while the Omni features top-of-the-line technology and versatility to take on practically any type of shrink wrap requirement.
Shrink wrap enjoys immense popularity among businesses that need to package their products for distribution to their customers. Shrink wrap protects products effectively against weather damage. It is waterproof and can fully cover just about anything. When properly applied, will not move and scratch product surfaces while in storage or during transport. It costs mere pennies per square foot, making it a cost effective solution. It is also easy to apply, requiring virtually no expensive technical expertise. Shrink wrap can cover any product or any size and shape.
But with all the different kinds of shrink equipment available, and with all sorts of shrink wrap film options to choose from, how can companies make sure they make they are getting the right product and maximizing their investment? Crawford Provincial offers an online Shrink Wrap Equipment Buyers Guide on its website. The guide discusses all the factors that must be considered when shopping around for the right shrink equipment. It includes sections on shrink wrap machine selection factors, types of shrink wrap systems, which shrink wrap film to use and shrink wrap terms. The guide is concise and straightforward, and will be able to get even those unfamiliar with the ins and outs of shrink wrapping quickly up to speed.
Crawford Provincial - Packaging Equipment carries a comprehensive line of high performance packaging equipment solutions from the best packaging equipment manufacturers. The company offers both brand new packaging equipment systems and used packaging equipment systems. They are a division of Crawford Provincial (AKA Crawford Packaging Inc.), which has been in business for over thirty years and has grown to be the largest independent packaging equipment distributor in Canada.
Crawford Provincial attributes its strength and market leadership to its expert and dedicated employees, strong customer relationships and high quality packaging solutions. To have a Crawford Provincial sales representative get in touch with you to discuss your company's shrink wrapping requirements, contact the Sales and Marketing department at the toll free number 1-800-265-4993, the local Greater Toronto Area Office number 905-670-7904 or the Head Office number 519-659-0909. Visit the corporate website at http://www.cppackagingequipment.com/ to learn more about
Shanklin Shrink Wrap Equipment
, to access the Shrink Wrap Equipment Buyers Guide or to find out more information about the company and its line of packaging equipment systems, products and solutions.
Contact
Crawford Provincial Packaging Equipment
Janet Wright
519-659-0909
www.cppackagingequipment.com

Contact