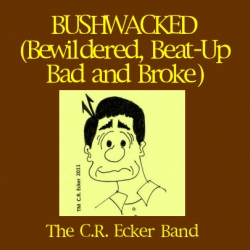 Playa del Rey, CA, July 31, 2012 --(
PR.com
)-- "Bushwacked Song," re-released on digital music download services in January under this shorter title after it led as the title song of The C.R. Ecker Band's first album last summer -- (Bushwacked (Bewildered, Beat-up Bad and Broke) -- is a lesson in patience and perseverance. Scheduled to begin airplay this week on KMEM, Memphis, one of the most established country and rock stations in America, the song reaches a benchmark the composer says has dreamed about for a long time.
C.R. Ecker originally wrote the song in 1991 during efforts to front a country band, but the economy of the times worked against his plan as he lost his job and others involved in the song went their separate ways. According to Ecker, "Publishers looked the other way as "Bushwacked Song," while an honest assessment of bad times then, even much worse now, did not fit into an upbeat-feel good category. But it did reflect where I was at, along with others too at the time.
"I never could have imagined that the song would be so much more timelier now than it was then. So I decided to try again last year to get it heard and appreciated."
The song sat safely stored in a cassette box until the new digital music technology came to the fore, and Ecker, who came from a communications background, 'dusted off the "Bushwacked Song" and got it out through the digital music downloaders.
"I was impressed by its original reception by the media last summer, led by MLive.com, a Michigan unemployment issues website, that called it 'An Important Song; A Song to Love' and its placement on the two websites for those who had run out of long-term unemployment benefits -- 99ers.net and 'Helping the 99ers.'"
Ironically, Ecker was unable to get airplay over the past year on American stations, in part because of the agreements many have with corporate owners aligned with major labels. In September, a small FM station in Sweden started to run the song and just this past month, it rose on the European Country Music Charts to #4 in Austria and #28 in Germany. In the Internet Radio arena, the leading station in Japan aired "Bushwacked Song" at various chart positions for almost six months through early Summer. "All in all, said Ecker, "the song has been played on Internet or small overseas AM/FM stations in over 20 countries," which shows interest in this simple ballad about down times."
Ecker noted that there have been several comparisons made to the song with "Brother, Can You Spare a Dime?" because of the nature of the subject matter and musical tones of both.
Not the type of person to sit and wait for 'instant' success from just one song, The C.R. Ecker Band, all but two entirely written by Ecker, now has 20 original country songs available through digital download services, including iTumes, Amazon mp3, cdBaby and a dozen others world-wide.
All the songs of The C.R. Ecker Band can be found on Google or Yahoo engine searches by going to The C.R. Ecker Band (Behind the Wall). Also the band can be found on Reverbnation.
Ten percent of all net profits of band sales is split between The Wounded Warrior Project and D.E.L.T.A. Animal Rescue.