Software for Personal Trainers Helps Increase Profits, Improve Client Retention and Save Time
Specialized Fitness Business Ninja software for personal trainers helps boost personal trainer client retention and management. More details about the latest software are now available at http://www.softwareforpersonaltrainers.info/.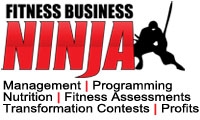 Rancho Santa Margarita, CA, August 10, 2012 --(
PR.com
)-- While personal training does involve a lot of one-on-one contact and face-to-face work, software for personal trainers can help personal trainers improve those interactions, build their client base and increase profits. Available online at http://www.softwareforpersonaltrainers.info/, there are several personal trainer business management software options that can help boost business.
In particular, FitNews.TV makes online marketing and outreach easier and more affordable for personal trainers and fitness experts. Starting at just $9 per month, the program offers comprehensive email, social media and text messaging campaigns for trainers looking for the latest in personal trainer software.
"Personal trainers and other fitness pros who use the latest personal trainer software will see their business grow faster with less effort," said John Spencer Ellis, creator of FitNews.TV and founder of John Spencer Ellis Enterprises, a fitness and personal development solutions company. "FitNews.TV offers fitness-focused information that trainers can use to track and analyze personal trainer marketing campaigns, expand their brand and outreach, and enhance their personal training business."
A second option when it comes to software for personal trainers, the Fitness Business Ninja service helps personal trainers manage their business and increase profits, providing an all-in-one online business solution for personal trainers when it comes to customer service, administrative and fitness business tasks.
"Fitness Business Ninja truly provides personal trainers, fitness coaches and other fitness pros with the opportunity to take their fitness services online to expand their market reach and their client base," Ellis added. "It offers the simplest personal training software around for client and business management."
In addition, the software for personal trainers site at http://www.softwareforpersonaltrainers.info/ provides details on personal fitness trainer marketing resources and business management, boot camp programs, online certification for personal fitness trainers, nutrition programs, and other education and business resources that all engage the latest software for personal trainers.
About John Spencer Ellis Enterprises
John Spencer Ellis Enterprises is a solutions provider for fitness and coaching professionals around the world, providing education, turn-key business programs, coaching and resources for new and advanced fitness and coaching professionals. For more information about John Spencer Ellis Enterprises or software for personal trainers, please visit
http://www.softwareforpersonaltrainers.info/
Contact
John Spencer Ellis Fitness & Personal Development
John Spencer Ellis
949-589-9166
http://www.johnspencerellis.com

Contact