VoLTE Subscriptions to Surpass 100,000 by the End of 2012 Reveals New Research from Signals and Systems Telecom
Subscriptions base expected to grow to 10 million by 2013.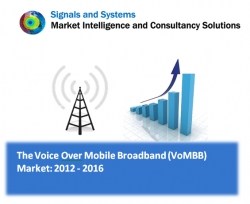 New York, NY, August 14, 2012 --(
PR.com
)-- With three commercial network deployments, the (Voice over LTE) VoLTE market is well positioned for further growth with subscriptions expected to surpass 100,000 by the end of 2012.
After MetroPCS, LG UPlus and SK Telecom, the next commercial VoLTE launch is likely to come from Verizon, which has given an indicative timeline of the first half of 2013. Verizon will add considerable strength to the subscriber base for VoLTE. AT&T and Clearwire will also follow suit.
While VoLTE has been the principal interest of vendors for a native mobile VoIP solution, now similar opportunities are being developed for HSPA that allow operators to deliver Voice over HSPA (VoHSPA), which presently offers even a larger addressable market.
Combined together both technologies form a native Voice over Mobile Broadband (VoMBB) ecosystem, which will bring unique advantages to carriers in the form of improved spectral efficiency, cost reduction per subscriber, high quality audio, user terminal power savings and the ability to offload voice capacity to other technologies such as WiFi.
Native VoMBB subscriptions which will include both VoLTE and VoHSPA, are expected to reach nearly 10 million by the end of 2013. Driven by the commercialization of both the VoLTE and VoHSPA standards throughout the globe, the industry is further expected to grow at a CAGR of nearly 150 % between the 3 year period from 2013 to 2016, eventually accounting for 450 Million VoMBB subscriptions by the end of 2016. By this time, almost 5% of all worldwide mobile carrier voice subscriptions will be based on VoMBB, which will generate nearly 100 Billion USD in voice service revenues.
This "Voice over Mobile Broadband Market: 2012 - 2016" presents an in depth assessment of the VoMBB industry. Besides analyzing the business case and industry roadmap, including carrier and vendor commitments for VoMBB deployments, the report presents subscription and service forecasts for both VoLTE and VoHSPA from 2012 until 2016 at a regional as well as at a global scale. The report also features an "Expert Opinion" section, featuring exclusive transcripts of vendor interviews on the outlook of VoMBB industry.
For more information, visit:
http://www.snstelecom.com/the-voice-over-mobile-broadband-vombb-market-2012---2016
Contact
Signals and Systems Telecom
James Bennett
+9713 7214108
snstelecom.com

Contact