Christian Gossett Wins Best Shorts Competition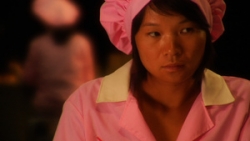 Los Angeles, CA, August 20, 2012 --(
PR.com
)-- Christian Gossett (writer/director), of Metamorfic Productions, has a won an Award of Excellence in the category of experimental film from the Best Shorts Competition. The award was given for Christian Gossett's exciting short film, Only Child, which has also recently won an Emerging Cinematographers Award from the International Cinematographers Guild for James Takata's inspiring cinematography.
Only Child is a five-minute experimental fairy tale about a Chinese toy painter that portrays a universal experience of an artist that is swept into a moment of inspiration. Kim Jiang's performance is subtle and James Takata's cinematography is stunning. The editing, sound design and original score create their own lyrical narrative language.
The Best Shorts Competition recognizes film professionals who demonstrate exceptional achievement in craft and creativity and those who produce standout entertainment or contribute to profound social change.
The Emerging Cinematographers Award gives aspiring cinematographers a chance to exhibit their work and gain crucial exposure in the industry. Since its inception, more than 1,000 short film entries have been submitted by Camera Operators and Assistants, but only a few can be chosen each year. The winning films are selected by a panel of judges who comprise of ICG members from all over the country. For more information regarding the ECAs, please visit
www.ecawards.net
.
Christian Gossett has a diverse professional background in all modern visual media. His character and concept designs have been sought by such visionaries as George Lucas, Sir Peter Jackson and most recently Tim Burton and Disney.
His latest game work is for an upcoming sequel to Activisions industry leading title 'Call of Duty: Modern Warfare'. Gossett's videogame career began on the Sony Playstation where he wrote and co-directed games featuring Bruce Willis, Bruce Campbell and Stan Lee.
His ongoing graphic novel, The Red Star, is in development as a feature film at Warner Bros. This award-winning series has sold over a million units worldwide, is one of the most critically acclaimed independent graphic novels of the decade, and was voted among the "Top 100 graphic novels of all time" by Wizard magazine. Currently, The Red Star series and game are available on the iPhone and iPad.
Gossett has written and directed two short films. The first is titled Only Child and is currently being submitted to festivals. His second short, Farewell My King, was filmed in 35mm and is in post-production.
Metamorfic Productions LLC is an independent production company with a division that focuses on up and coming director's short projects meant for exploring their creative vision. Metamorfic is owned and operated by Producer Jhennifer Webberley.
For more information about Only Child or Metamorfic Productions, please visit
www.metamorfic.com
.
Contact
Metamorfic Productions
Jhennifer Webberley
818 845 5148
www.metamorfic.com
www.christiangossett.com

Contact