Ayurvedic Health Practitioner Medicine Training Program Offered by the California College of Ayurveda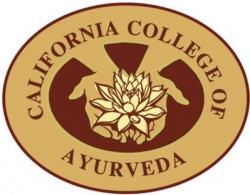 Nevada City, CA, August 21, 2012 --(
PR.com
)-- The internship program is focused on lifestyle counseling and management of digestive and mind complains. The Ayurvedic program which begins in November, 2012, is available to students who have completed the Ayurvedic Health Educator program (Ayurvedic Studies Level I) and the Clinical Ayurvedic Theory program (Level II).
The California College of Ayurveda (CCA), located in Nevada City, California has been pioneering professional
ayurvedic training
since 1995 when it began offering the first state-approved program of its kind in the United States. Founded by Dr.
Marc Halpern
, CCA has become the largest, fully dedicated college for the study of
Ayurveda
in the United States.
In the internship program students conduct a minimum of 40 patient visits. Their goal is to support their patient to make a successful transformation toward a harmonious and healthy diet and lifestyle. Interns will gain experience working with diet, herbs, aromatherapy, color therapy, sound and mantra therapy, yoga therapy, and other Ayurvedic and yogic practices.
Ayurveda is the most complete and best developed natural system of health worldwide. It is one of the few systems of medicine that treats the patient at the level of body, mind and consciousness. Each of us intuitively wants someone who really understands who we are and why we are sick at the deepest level. Ayurveda is much more effective than Western medicine in the management of chronic diseases of the body and the mind. Moreover, Ayurveda is completely safe if practiced the right way. Ayurvedic medicines have few or no side effects. More importantly, Ayurveda offers the patient the control of their process: through lifestyle adjustments they can take control over their own healing process. Ayurveda is the medical side of Yoga. Yoga provides a solid foundation for the healing of the mind through deep relaxation and the use of conscious exercise. Ayurveda expands the potential of Yoga to heal the body using diet, lifestyle and herbal medicines.
Contact
California College of Ayurveda
Santiago Suarez
530 478 9100
www.ayurvedacollege.com

Contact