Bella Donna, the Stevie Nicks and Fleetwood Mac Experience Coming to the Scherr Forum Theater Thousand Oaks September 15, 2012
The critically acclaimed, "hauntingly familiar" tribute recreation of Stevie Nicks and Fleetwood Mac in concert. The Ventura county band celebrates the legendary superstars at the Scherr Forum Theater in Thousand Oaks on Saturday, September 15, 2012 at 8pm.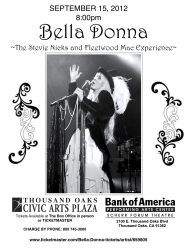 Thousand Oaks, CA, August 23, 2012 --(
PR.com
)-- Bella Donna - The Stevie Nicks and Fleetwood Mac Experience will bring their full concert show to the Scherr Forum Theater at the Bank of America Thousand Oaks Performing Arts Center. Saturday September 2012 at 8pm.
The band will perform the music of legendary Stevie Nicks solo and with Fleetwood Mac with a tip of the (top)hat to the 35th anniversary of the 1977 release of the multi-platinum album, "Rumours"as well as the biggest hits of the bands career.
Formed in 2002 and based in Ventura county, the 7 piece band has traveled extensively across the nation performing in many of the 50 states.
Singer, Michele Tyler was awarded the highest degree of praise when she was invited to meet the "real" Nicks after one of the superstar's shows.
"She had heard us over a cell phone call of all things, and we didn't find out until later that there was a bigger name on the other line!" exclaims a giddy Tyler, "We would have stopped and taken the call!"
A few weeks later, Michele Tyler and guitarist, Bob Weitz were on their way to meet Stevie backstage at the invitation of the original Gold Dust Woman, after one of her shows.
"She was so sweet and complimenting to us. She made me feel special. I was so nervous, but she put that to rest immediately. She told me how good we sounded and laughed, 'you can take over anytime'..." Michele Tyler smiles and adds,"Of course, I am not waiting for the phone to ring anytime soon!"
Bella Donna continues to amaze with their ability to blend illusion and reality while performing a show that is both authentic and satisfying to longtime and new discoverers of the Nicks/ Mac legacy.
Fans can expect such hits as "Rhiannon," "Dreams, "Stand Back," "Stop Dragging My Heart Around," the classic singalong "Landslide" and more than 90 minutes of non stop treasures from one of the world's best loved Muses.
The band is named after Nick's first solo release in 1981, the wildly successful certified Grammy winning, "Bella Donna."
"Just like the White Winged Dove," When Bella Donna is on the stage, Stevie Nicks is in the House.
When: Saturday, September 15, 2012 at 8:00pm
Where: Scherr Forum Theater at Thousand Oaks Civic Arts Plaza
2100 E. Thousand Oaks Blvd.
Thousand Oaks, CA 91360
Tickets and Information:
$28.50-$38.00 at the Box Office (805) 449-ARTS (2787)
Buy 3 get 1 Free -- 25% off each ticket when purchased as a Four Pack -- use offer code 4PACK and save.
Tickets available for sale at the Thousand Oaks Civic Arts Plaza box office in person; or at any Ticketmaster retail location.
Ticketmaster Charge by Phone at 800.745.3000; or purchase on-line.
Contact
Citizen Kane Productions
Jim Kane
818-850-1707
www.belladonna-music.com

Contact