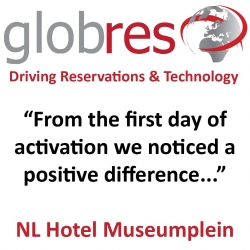 Luzern, Switzerland, September 04, 2012 --(
PR.com
)-- 2012 has seen one of the most pioneering years for putting the GlobRes philosophy, "Driving Reservations and Technology" into practice. Connecting to the Lodgegate PMS has been one of the many initiatives and technological developments undertaken to improve distribution and inventory management for GlobRes connected hotels.
New product development at GlobRes means creating a service that adds value to a hotel whether through increased sales or the improvement of operational efficiency.
GlobRes Director of Marketing, Chris Ulph, said, "The positive feedback [we] received from our hotel partners and from the implementation team at Lodgegate shows that GlobRes can be more flexible and produce faster results than some of the bigger, generic companies in the industry."
Remco de Graaf, owner of NL Hotel Museumplein, spoke of the new software solution, "We are extremely happy and more than satisfied with the 2-way XML interface connection between our PMS system Lodgegate, GlobRes Xpress and the GlobRes CRS.
"From the first day of activation we noticed a positive difference. Especially in terms of saving time. Each booking that is being generated through an OTA, GDS, and IDS or through our own homepage comes directly in our PMS without any errors. We don't have to do anything manually anymore! Human errors or mistakes are history and our system is up to date at all times. We really benefit from this all-in-one solution, as a hotel and we can focus more on our clients!"
Yibin Chen, from NL Hotel Leidseplein, added, "We have our PMS, channel manager and CRS system all interfaced with each other and we only work from Lodgegate PMS to update our rates, availability. Every change, regarding rates, new bookings, restrictions etc. can be transmitted through Lodgegate and Xpress will take over the rest!
"We avoid wasting time on maintaining the correct rates, availabilities/overbookings and Rate Parity. Xpress is a great channel manager which allows users to focus on the reservations, yield management and of course service to the guests."
Notes to editors
About GlobRes (globres.com)
GlobRes provides integrated technology solutions to the global hospitality industry. Providing leading reservation, distribution and channel management software that is used by more than 12,000 hoteliers worldwide whilst producing over $12 billion in revenue each year. GlobRes offers real options for hotels looking to capitalise on their potential.
About Lodgegate (lodgegate.com)
Lodgegate offers complete PMS software solutions for hotels with the company's highest priority being the development of advanced and fully integrated applications for the hospitality industry aimed at increasing efficiency, reducing operational costs and offering our services to our customers on a 'No cure, No pay' basis.
About the Connection
The GlobRes Xpress Channel Manager and Lodgegate PMS 2-way XML connection allows inventory, rates, availability and bookings to be synchronised across the two platforms as well as updating GlobRes connections to the GDS, IDS, Web Booking Engines and Direct Online Portal Contracts. An integrated system saves time, money and gives a hotel the ability to maximise reservations and revenue.