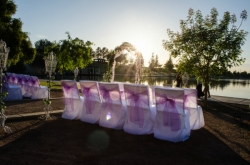 Phoenix, AZ, September 07, 2012 --(
PR.com
)-- 1st Affordable Weddings & Ministers, located in Phoenix AZ, help clients seeking low-cost wedding solutions and venues 365 days a year. Uncertain economic times have hit couples hard but lack of finances should never be a reason to put off the most important life decision you are ever likely to make.
The business was started with the idea that marriage is honorable and shouldn't cost your life savings. Since 2009, they have helped clients on a shoestring budget choose a low-cost venue and a variety of specially tailored services. There is a rise in
park and backyard weddings
in this area because of the cost difference compared to traditional venues – it's great to see that people are getting married in spite of the economy.
Al Latimer, the likable joint owner of the venture, says, "We have seen a massive increase in bookings this year. Many clients have told us that they want to get married before the end of 2012."
"And lots of brides would just prefer to buy a great ring, rather than spend their paycheck on the day itself," interjects Al's wife Susan – the proactive force within the business.
This happy couple started the business out of a desire to take some of the greed away from the vulture-like wedding business. Since the ceremony itself only lasts for a very short time – it seems sensible to invest more money in the timeless aspects such as the photography and rings. There are millions of businesses out there who will make couples feel guilty for not spending thousands of dollars on their guests but actually, a wedding is more important than that. It should be a display of genuine commitment, not an opportunity to get into debt.
In the capable hands of Al and Susan, a couple can have a great wedding for 50 people for under $799. All they need you to provide are the bride and groom and the food and drink.
Notes to editors
1. For more information contact Al or Susan Latimer at 602-575-5452 cell or affordableweddingministers@gmail.com.
http://affordableweddingminister.com
http://www.facebook.com/affordableweddingministers
2. The Company was launched in February 2009 by Al and Susan Latimer.
3. Images available on request.
4. 1st Affordable Weddings & Ministers is a mobile wedding chapel that comes to you. It provides small wedding packages that can include, Minister, Photographer, customized ceremony, decorated Arbor, chairs with covers and bows, bridal runner, music for your ceremony, decorations, tables with linens and center pieces.