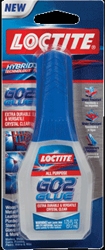 Issaquah, WA, September 10, 2012 --(
PR.com
)-- When the situation to stick or to make a bondage between two things, regardless the usage of glue made at industrial level or for some other purpose, it works best to keep the strong bondage between the two things and do not stop the work consistency. Basically Loctite Go2 Glue is true all-purpose glue which is having power of two technologies to create two technologies i.e. Durability and Versatility by mixing the strength of Polyurethane and versatility of Polyoxysilane which works as the best formula for repairing, crafting and building jobs. The technology of making glue more functional in an expertise manner was developed with Loctite industrial expertise. Go2 is Glue is water resistant, dries crystal clear and sets with no clamping.
Loctite is the only consumer brand that offers a full range of high performance adhesives. Their uncompromising level of quality and innovation is achieved through a strong commitment to research and development. Loctite employs over 230 individuals in research and development with nearly 100 chemists and engineers holding PhDs.
Recommendation for Glue
· It is highly recommended for the below mentioned materials
· For DIY, repair and modeling work in and around the house
· Compatibility with porous and non-porous material such as aluminum, concrete, stainless steel, tiles, glass, wood, ceramic, copper, varnished surfaces, reinforced polyester, leather, brass, paper cardboard, steel, zinc, mirrors or natural stones.
Features and Benefits of Loctite Go2 Glue
· Dries Crystal clear
· Consistently thick
· Temperature resistant
· versatile and durable
Benefits
· Works best for applications requiring high temperature up to 176° F (80°C)
· Repairs will be done invisibly
· Resistant to Impact, Shock, Vibration, Water and Temperature Extremes
· Will not run but reduces clean up
Get this
Loctite GO2 Glue
at The Hardware City, the online hardware store currently offering this product. The Hardware City is your number one supplier of high-quality tools and home repair products at competitive prices. Dedicated to providing homeowner and business customers with the highest quality customer service and best tools in the market, The Hardware City is a customer's one-stop shop for all of your Do-It-Yourself home repair needs.