Utility Equipment Leasing Corporation Appoints Ron Starks as Service Mechanic for the Sanford, Florida Service Center
Starks brings over 25 years experience in utility equipment maintenance and dedication to customer service.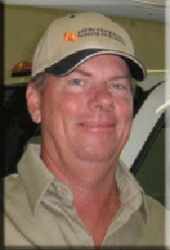 Waukesha, WI, September 11, 2012 --(
PR.com
)-- Utility Equipment Leasing Corporation (UELC) has appointed Ron Starks as Service Mechanic at its Sanford, Florida Service Center, serving Florida, Georgia, Alabama, and Mississippi. Ron will provide road service in addition to support at the Sanford Service Center.
Ron has more than 25 years experience in aerial equipment service throughout the southeast, including 10 years most recently providing primarily road service. He began his career with Asplundh and has also been with Florida Power and Light and Altec. UELC customers will appreciate Ron's depth and troubleshooting skills as well as his focus on safety and serving customers well.
Ron has certificates in:
-Air brake systems
-Fluid power certification
-Parker air and hydraulic hoses and fittings
-Navistar engine diagnostics
-Fiberglass construction and repair
-Maintenance and repair of Teco equipment
-DOT inspections
-Hydraulic systems
Ron has a private pilot's license, enjoys constructing and flying model helicopters, plays golf and enjoys time with his wife and pets. He looks forward to meeting and servicing customers throughout the four state area serviced by UELC Sanford.
Rich Coughlin, Sanford Service Center Manager, commented on Stark's appointment noting, "We're excited to have Ron on board and know that the depth he brings in servicing equipment and meeting customer needs is a great fit for the service orientation at UELC. Ron joins a team that looks forward to hearing from you and exploring how we can help keep you up and operating efficiently, even in times of peak workloads."
UELC is celebrating its 45th year of leadership in the rental and leasing business for utility trucks, material handlers, track units, and cable pullers. The company has grown substantially and is expanding its fleet to be responsive to the market. Recognized for its modern and reliable fleet, it has service centers with experienced, responsive team members across the country, so assistance is always just a short phone call away. The UELC team is always "At Your Service" with the best equipment, the best solutions and the best team.
Give Rich or Ron a call at 407-322-8861 and find out why and how the company is always "At Your Service". They are both located at the UELC Service Center at 500 Codisco Way, Sanford, FL 32771.
About UELC
Utility Equipment Leasing Corporation, founded in 1967 offers rental and leasing units ranging from bucket trucks and digger derricks to cable pullers and track vehicles. UELC is a strong business partner to contractors, utilities, municipalities and other industries across the nation. With headquarters in the Greater Milwaukee area, UELC's nationwide network of dealers and service centers are ready to fulfill any utility equipment needs. To learn more about UELC offerings, visit www.uelc.com or call 1-800-558-0999.
Contact
Utility Equipment Leasing Corporation
Louise Hermsen
262-547-1600
www.uelc.com

Contact