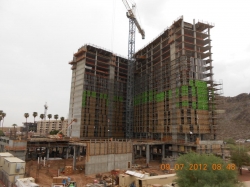 Tempe, AZ, September 13, 2012 --(
PR.com
)-- Hub On Campus, Tempe, Arizona's newest high-rise apartment complex opening August 2013, tops off construction at 19-stories this week.
Hub On Campus will be home to over 630 residents in its 17-stories of residential space. There will be 25,000 square feet of retail space as well as 6,550 square feet of restaurant space on its first and second floors to total 19-stories in all.
"Construction is progressing smoothly and on schedule," says Hub On Campus project manager Eric Grimm. "We are looking forward to the August 2013 opening."
Grimm also notes that now that the building has reached its maximum height, onlookers will be able to see the installation of windows and exterior stucco colors as the next visible developments.
Hub On Campus offers housing for students from ASU, local community colleges and young professionals with the option for a studio, one, two, three, four and five bedroom apartment. Residents will live in walking distance to ASU's campus and sporting complexes, Mill Avenue and the Light Rail.
Hub On Campus' 40,000 sq. ft. amenity deck will host a 22-foot outdoor LED screen , 2 outdoor pools, and a fitness center with state-of-the-art equipment. There will be controlled access to quiet and scholarly floors. Along with individual leasing and roommate matching, the property will be fully furnished with new modern furniture and offers private bedrooms, ceiling fans in each bedroom, , 42" flat screen TV's mounted on the wall of each living room, and full-size appliances. The 19th floor will consist of penthouses with private outdoor hot tubs in each unit.
"You're not going to find a better combination of luxury and fun when it comes to student living," said ASU junior Joseph Bassani, who was also the first person to sign a lease for the 2013-14 year. Bassani says he's "already looking forward to next year!"
More information about floor plans, pricing and how to sign a lease can be found by visiting
www.HubOnCampus.com
, calling their leasing office at 480-664-8097 or visit their leasing office at 425 S. Mill Ave., Suite 401, Tempe, AZ. Office hours are Monday – Friday: 9 a.m. – 6 p.m.; Saturday: 10 a.m. – 4 p.m.; Sunday: Closed. Building location is 323 E. Veterans Way, Tempe, AZ 85281.
Hub On Campus is owned and managed by Core Campus LLC and is a flagship development for Core Campus. Core Campus is a private development and is not affiliated with Arizona State University.