Theresa Roemer Interviewed on "The Balancing Act" on Lifetime Television
Award-winning Author Talks about Her Book, "Nude"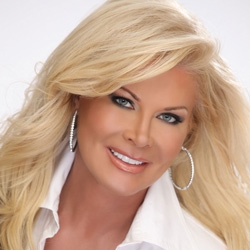 The Woodlands, TX, September 20, 2012 --(
PR.com
)-- Award-winning author of Nude: Unveiling Your Inner Beauty and Sensuality, Theresa Roemer, will be on air on "The Balancing Act" on Lifetime Television this October 5, 2012 at 7:00am.
As a beauty queen, fitness pioneer, former body builder, entrepreneur, motivational speaker and philanthropist; also a wife, mother and grandmother, Theresa is quite the master at balancing several roles and responsibilities. She is a successful fitness trainer and entrepreneur with many beauty, fitness and bodybuilding titles to her credit. She has a loving husband, 6 children and 6 grandchildren.
In her interview for the show, Theresa and the host talk about the many "layers" that usually prevent a woman from being who she really is and living life on her own terms.
Host: "How many layers are we really talking here?"
Theresa: "Well, how many do you have? We are moms, wives, friends, daughters, grandmothers—all these layers build up over time and get in the way of us getting back to our true selves."
Theresa's book, Nude: Unveiling Your Inner Beauty and Sensuality has won the Indie Excellence Award in 2011. Speaking about the concept of "nude," Theresa explains in this TV interview that her book focuses on letting go—of inhibitions, fears, doubts, stresses and worries.
Host: "When you say be 'nude' you are really saying, be true to yourself and your partner, right?"
Theresa: "Being 'nude' is about being open, honest and connected with yourself and with your partner."
Theresa has brought smiles and joy to thousands of people across America by just being herself and giving freely of her time, expertise, experience and most of all, her heart. On the personal side, her life has not been free from struggle and strife, but her success, independence, social standing and overall sense of well-being is a result of the trust she has in their own abilities and in the charities and organizations she works with to make a difference to the world around her. She is also an inspiring role model for many women whom she has touched in different ways.
"The Balancing Act," America's premier morning show, airs weekday mornings on Lifetime Television at 7:00 am (ET/PT). For today's woman who faces the daily challenges of trying to balance life, career, family, and find time for herself, this show offers some simple, yet highly effective solutions. The show is immensely entertaining, engaging and educational and while it may be called a "women's show," many of the viewers are also males who enjoy watching it with their spouses, girlfriends or co-homemakers. Theresa's Roemer's interview is set to air on October 5, 2012.
About Theresa Roemer:
Beauty and fitness pioneer Theresa Roemer has previously owned and operated her own health clubs, mentored young girls in the highly acclaimed Barbizon Modeling Schools and her fitness talents have been utilized by a top fitness chain in the country. She has authored the Indie Excellence award-winner book, Nude: Unveiling Your Inner Beauty and Sensuality. She is an active spokesperson for the American Heart Association, Texas Children's Hospital and is a board member for Child Legacy International. In recent months, Theresa has been busy with speaking engagements on fitness and nutrition; sponsoring fundraising events for the American Heart Association; filming interviews, and launching her new line of designer candles.
Contact
Theresa Roemer LLC
Missy Held
(281) 292-2781
www.theresaroemer.com

Contact