Unify All Your Storage Clouds with SME BlackBerry Cloud File Manager App
SMEStorage have updated their Cloud File Manager App for BlackBerry, which enables management of all Cloud Storage services from one App from a file system interface.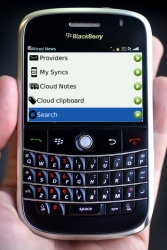 London, United Kingdom, September 20, 2012 --(
PR.com
)-- SMEStorage has updated their BlackBerry Cloud File Manager App to enable easy management of Storage Clouds such as Google Drive, iCloud, Dropbox, Box, WebDav, Amazon S3 etc.
The App also supports SaaS services that enable storage such as BaseCamp for example. In total, over 35 Storage and SaaS Clouds are supported.
SME also provides a free 5GB free storage hosted on Amazon S3 for every user that purchases the App.
Managing files spread across multiple cloud services can be challenging and can involve numerous different applications, if indeed such services are supported at all. With the SME BlackBerry App copying a file to the device or between services is as easy as selecting to copy it to the clipboard and then pasting to another service.
Cross-Cloud service search is a further unique feature of the App. This feature enables an end user to search for files and receive a set of results for files that are stored across all cloud services.
Files can easily be uploaded from the BlackBerry to any of the Cloud Services by simply changing directory to the relevant Cloud Service in the file tree.
Files from different clouds can be opened directly in the device with any associated application.
Other features include the ability to sync BlackBerry notes directly with a nominated cloud service.
CEO Ian Osborne commented, "We continue improving our support for BlackBerry devices and this update to the Cloud File Manager for BlackBerry improves on the prior version with a number of new features and supported clouds, as well as new support for our European server. We also recently rolled our a rich mobile client for the BlackBerry Playbook which we have seen to be very well received."
The SME Cloud File Manager is available now from BlackBerry AppWorld.
AppWorld link:
https://appworld.blackberry.com/webstore/content/12305/
Contact
SMEStorage
Ana Foncea
0044 709-220-7207
www.smestorage.com

Contact