snom Blends Performance and Value with New snom 710 IP Phone
snom expands its 7xx series with the new snom 710 VoIP desk phone ideal for small and medium-sized businesses, hosted service provider VoIP deployments and larger scale multi-site installations.\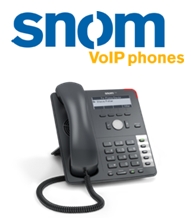 Berlin, Germany, September 20, 2012 --(
PR.com
)-- snom technology AG, a leading developer of IP desktop phones and IP communications solutions, today introduced a new member of the snom 7xx series business phone family. The
snom 710
is an affordable, competively-priced, muli-purpose business phone ideal for small to large scale deployments in a variety of business environments. Like its siblings, the snom 720 and snom 760, the sleek, ergonomically-designed snom 710 supports wideband audio for high definition voice quality, an advanced audio system and a friendly, menu-driven user interface enabling simple, easy access to core telephony features.
"The snom 710 rounds out the snom 7xx series as an affordable, entry-level business phone perfectly suited for day-to-day usability, but with exceptional design, performance and advanced IP communications features, making it a standout compared to other phones in its class," said snom technology, Inc. Chief Operating Officer Mike Storella. "Any budget-conscious business will find the snom 710 a perfect blend of performance and value."
The snom 7xx series VoIP telephones utilize snom's fifth generation Session Initiation Protocol (SIP) firmware, which allows interoperability with a wide variety of SIP-based IP PBXs and softswitches used in small and large office environments worldwide.
Feature Rich for High Usability and Easy Deployment
The snom 710 has an easy to read, four-line black and white display featuring an intuitive interface with four context-sensitive function keys. Five freely programmable keys with built-in LEDs show the status of the programmed function at a glance. These keys can be used for a variety of one-touch features (speed dial, forward, transfer, etc.) or to conveniently monitor the status of other extensions; users simply map features to keys using the phone's simple, user-friendly menu. Four SIP identities provide multiple phone lines for separate business functions or to handle high call volumes.
A pre-installed security certificate makes it possible to quickly and securely provision the phone without manual interaction for simple deployment in any environment. Advanced remote management and provisioning, including support for TR-069/TR-111, make the snom 710 ideal for any VoIP hosted service provider or larger scale multi-site installation, as well as SIP-based IP PBXs in a wide array of business environments.
Advanced Performance at an Affordable Price
Like its siblings the snom 720 and 760, the snom 710 is built from the ground up for HD audio and delivers superior, crystal clear end-to-end call quality. Its sleek ergonomically- designed handset has an advanced speaker and microphone system, and the phone supports a broad range of media codecs, including TIA-920 and G.722 wideband codecs.
The snom 710 enables a rich set of everyday business telephony calling features, but also supports the more advanced capabilities of the other 7xx series models, including an address book with 1,000 possible entries, hands-free speakerphone, POE, 2x Ethernet connections, ringtone selection and LED call indication.
The snom 710 is available for order today by distributors and resellers worldwide; MSRP is $119.00 US.
About snom
snom technology AG develops and manufactures VoIP telephones and related equipment based on the IETF open standard, SIP (Session Initiation Protocol). Recognized for its high-quality, customizable, and cost-effective business solutions, snom is also differentiated by the company's history in the VoIP industry, and its dedication to high security standards. All of snom's products, from desktop phones to IP PBXs, are designed to be fully interoperable with leading communications equipment vendors. snom customers benefit from the interoperability and flexibility that the snom telephones offer, including plug and play integration and universal compatibility with any SIP-based telephony platform. Founded in 1996 and headquartered in Berlin, Germany, snom technology AG also has offices in Italy, France, the United Kingdom and the US. The company distributes its fourth generation SIP phones through its network of more than 60 authorized reseller partners in 200 countries worldwide. For more information on snom, please visit www.snom.com.
Contact
snom Technology AG
John Gates
617-861-3651
www.snomchannel.com
Elevate Communications
c: 617-548-8972
twitter: @johngates

Contact
Multimedia
upporting four SIP identities and blending an elegant utilitarian design for high usability with high performance and affordability, the snom 710 delivers a rich set of everyday business telephony features critical to today's real-time, information-driven organizations.