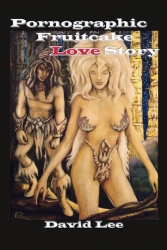 Ibiza, Spain, September 24, 2012 --(
PR.com
)-- A satirical farce based upon a time-tried, rather universal theme, "Pornographic Fruitcake Love Story" focuses on the absurdity of a lover's efforts to please the beloved. In this case a writer with no talent for eroticism struggles to produce a money-making "filthy story" in order to impress a woman who claims to have no faith in men. It mainly consists of the porn-maker's bumbling efforts. A wildly Bacchic send-up of pornography, the story tells of a pair of siblings coming of age in the most unlikely surroundings until they finally consummate their love for each other. The story is told slightly at an angle, with the character of its aspiring "author" appearing in occasional "Personal Interludes." This character is not really autobiographical, though he pretends to be. The story is very much itself and does not fit any of the common genres. It shows traits of an erotic romance as well as of a fantasy novel or a science fiction. Settings include the 16th century, the 'Flat World', and the planet Trilia. A hilarious reading!
Book Information: Pornographic Fruitcake Love Story by David Lee
Illustrated with drawings by Djin Omen
Publisher: Lulu.com
Editor: Chris von Gagern (ArtTransfer)
Paperback with a retail price of $19.95
ISBN: 978-1447844150
Pages: 279
Published: 2012
Also available as e-book
About the author
Born 1945, David Lee grew up in Long Beach, California, and left for Europe in the 70s, with his wife and three kids. When the money ran out, David took up playing guitar and singing in the streets to make a living. Leading the wandering life of street musicians in Spain wore out the family. On his own, David met a woman who inspired him to try his skills on a bigger work than poems and lyrics.
For more information, review copies, or interviews please contact:
ArtTransfer
The printed version is available for purchase online through the publisher's website
lulu.com
, Amazon.com, BN.com and other online retailers. Bookstores should contact Ingram for wholesale orders.
The e-book is available online through the publisher's website lulu.com,
Apple's iTunes store
, BN.com and other online retailers.