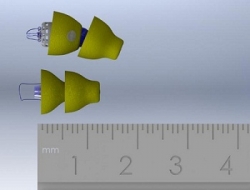 New Braunfels, TX, September 26, 2012 --(
PR.com
)-- This month, the next generation of Lyric© extended-wear hearing aids, Lyric2, are being introduced by
Estes Audiology Hearing Center
in its New Braunfels, Boerne and Georgetown clinics. Estes Audiology is the exclusive provider of Lyric2 Extended-Wear Hearing Devices within the Austin/San Antonio metroplex.
"Estes Audiology is so proud to be chosen as the sole provider of Lyric2, the 24/7 wearable, sweat proof hearing device that can be worn months on end. With its newest version being significantly smaller, we will be offering to more patients the ability to wear the only 100% invisible hearing aid on the market," stated Dr. Soriya Estes, owner and founder of Estes Audiology Hearing Centers.
Lyric hearing aids are hearing devices that conveniently fit directly into a person's ear canal and do not have to be removed daily like other more traditional hearing aids in the market. The devices especially appeal to people with hearing loss who want to maintain their active lifestyle without limitations. With Lyric, a wearer can take showers, play sports, and sleep; similar to extended wear contact lenses, these devices can be worn 24/7. The Lyric devices are not visible to others because they fit deeply into the ear canal and the internal battery lasts up to four months.
The recent FDA approved and second generation Lyric2 device allows more qualified candidates due to its significantly smaller size. Being shorter by 4 millimeters, Lyric2 can be placed much deeper into the ear canal. It is also available in an Extra Small size with a smaller circumference. The smaller size allows it to be fit to many more patients, without compromising anything from the standpoint of sound quality or functional gain.
Lyric has been featured nationally on the Dr. Oz Show, the Today Show, USA Today, CNN, ABC, and many other news outlets. CNN named the advent of the Lyric Hearing Device as one of the Top Health Innovations of 2009. Patients are so satisfied with Lyric that 94% of Lyric users recommend them to a friend or loved one.
Over 32 million Americans suffer with hearing loss, many with the stigma of wearing hearing aids, yet fail to realize that their hearing can be remedied discreetly through the use of convenient, invisible devices such as Lyric. Estes Audiology is committed to change this stigma through its offering of Lyric2.
The Audiology staff in the New Braunfels, Georgetown and Boerne locations of Estes Audiology is currently fitting the new devices following the pre-release of the device in the New Braunfels location - 1528 Common Street #5, New Braunfels, Texas - on August 21, 2012.
About
Estes Audiology
Estes Audiology is the premier hearing healthcare provider in Central Texas. Founded on the principle that all patients should receive superior hearing healthcare, the audiologists at Estes Audiology evaluate, manage, and treat hearing disorders in more than 5,000 patients throughout Central Texas. Estes Audiology currently has four clinics located in New Braunfels, San Marcos, Georgetown/Sun City and Boerne. Estes Audiology devotes itself to improving the lives of those with hearing loss and protecting those who may be predisposed to hearing loss due to occupational hazards through distinctive patient care, education, commitment to professionalism, and attentive personal service. Unlike its competitors, Estes Audiology distinguishes itself as a recognized professional healthcare provider as it is a service contract provider for Medicare, Medicaid, the Veteran's Administration, and Comal County I.S.D. Due to the high level of healthcare offered, Estes Audiology's clinics are used as training facilities for University of Texas – Austin doctoral audiology students.
Putting its patients first, providing the most qualified audiologists and clinicians, utilizing state-of-the-art diagnostic tools, and providing the most advanced hearing devices and comprehensive solutions, Estes Audiology has become the hearing healthcare provider of choice in Central Texas.
To learn more about Lyric2 at Estes Audiology or to schedule a fitting, please go to
www.HearLifeAgain.com
.