Taking Training to the Next Level
Training that helps the A & J Collision Repair focus on the customer and how to improve efficiency.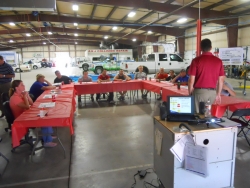 Conway, AR, September 29, 2012 --(
PR.com
)-- A local auto body repair facility was closed on 21 September 2012 for training. The training that they received was to help in the repair process of a customers' vehicle. The training was a little unique; it did not focus on repairing the car but on how to improve their process in the facility. Each step in the repair process that the vehicle goes through was looked at for improvements. A couple of examples follow. The scheduling of the vehicle is a small but very important step and can change the completion date either way by a couple days. One other step is the process that the parts get ordered, and at what time in the process they get ordered. These items the customer may not be aware of but will hugely impact the experience that the customer will have with us. "What we want to do is improve our overall customer experience," stated Jody Gatchell the owner of A & J Collision Repair, "and we are looking at our processes in the facility, to help us with that."
We are all very dependent on our vehicles and to be without for an extended time can cause some hardships.
A & J Collision Repair is in Conway, AR. They have been in business for 15 years. They provide their community with superior automotive collision repair service. They have been on the cutting edge of their industry, converting to waterborne paint in 2007. Going green has been a path that the company has moving in ever since and are continually looking for ways to improve this as well.
A & J Collision Repair is located at 1215 Thomas G. Wilson Drive in Conway Arkansas. For more information about their business, visit www.ajcollisionrepair.com. They can be contacted at 501.327.1882 or by email at jody@ajcollisionrepair.com
Contact
A & J Collision Repair
Jody Gatchell
501-327-1882
www.ajcollisionrepair.com

Contact