Inspiring Poetry of Mabel Burlingham is a Moral Touchstone
Special Edition of Inspirational Poetry by Mabel Burlingham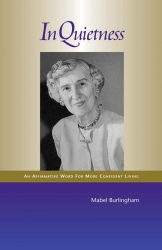 Tucson, AZ, July 10, 2007 --(
PR.com
)-- In Quietness
An Affirmative Word for More Confident Living
By Mabel Burlingham.
Zeitgeist West
June 2007/48 pages
ISBN 978-0-9796921-0-9-5/paper/$9.95
Inspirational Poetry/Biography
Inspiring and beautiful poetry.
Norman Vincent Peale
About the Book
In Quietness, An Affirmative Word for More Confident Living, authored by Mabel Burlingham (1882-1961) includes 21 poems and prayers first self-published by the author in 1952. This special edition has been updated with photographs and biographical material from the life of the author who was an American intellectual and leading citizen of Syracuse, New York between 1914 and 1960.
The inspirational poetry of In Quietness expresses Mabel Burlingham's abiding religious faith and her optimistic humanitarian spirit. When it was first published in 1952, her poems were praised by Rev. Norman Vincent Peale and other religious leaders. Mabel Burlingham's poems express timeless faith:
So close, and yet beyond my sight,
I sense another world
Of Beauty and of Light.
It seems to permeate the earth
And fill the sky,
It floats upon the clouds
As they pass by,
It ripples on the stream
And murmurs in the breeze,
It sings its sweet refrain
From topmost boughs of trees.
It gleams upon the earth,
And hovers in the air,
It glows within my heart—
God's Love is everywhere!
---Awareness by Mabel Burlingham
This special edition of In Quietness is published in honor of the 2007 dedication of the Burlingham Memorial Park in Syracuse, New York.
Order Information: Contact Claire E. Scheuren at Zeitgeist West: phone 520-795-4664 or 520-977-7786; P.O. 16472; Tucson, AZ 85732-6472; email:.zeitgeistwest@gmail.com
###
Contact
Zeitgeist West
Claire E. Scheuren
520-795-4664
www.zeitgeistwest.com
520-977-7786

Contact