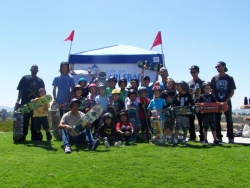 Solana Beach, CA, October 10, 2012 --(
PR.com
)-- Go Skate Skateboard School is based in San Diego and has taught skateboard lessons at over 1300 locations in the United States for the past three years. In October 2012, Go Skate has expanded to cover all of the U.S. and Canada's over 2500 skate parks. Go Skate's owner, Rob Dunfey says, "We used to get calls all the time from people who would love to learn to skate, but we didn't have a location in their area. Now, they can learn how to skate."
It is now possible to get a skateboard lesson at any public U.S. skate park year-round. Dunfey also adds, "It didn't make sense that you could go to any ski area and get a ski lesson, but you couldn't go to any skate park and get a skate lesson."
GoSkate.com created of one of the first nationwide certifications for skateboard instruction. A system that tests trainers based on their knowledge of safe and proper instruction. After certification, all instructors are trained and given a customized syllabus to instruct their student. Over 2,300 instructors in all 50 states which have become mobile instructors for Go Skate. Instructors in 2012 have included Chad Fernandez, Chris Dobstaff, and Karl Watson.
In 2012, Go Skate performed over 5,000 private lessons and over 25 camps in New Jersey, Kentucky, Houston, Pearland TX, Carlsbad California, Venice Beach California, Chicago, New York City, Washington DC, Philadelphia, and more.
Go Skate's private instruction is customized and starts each student with the basics of transportation, foot placement, balance, upper body, pushing, and turning. At intermediate and advanced levels, Go Skate teaches flip tricks, how to skate ledges, rails, and vert.