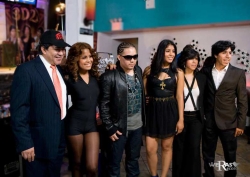 New York, NY, October 17, 2012 --(
PR.com
)-- Weras Records organized an extraordinary press conference presenting their exclusive artists: 3D2, Raffy Life, Brashell and the new Tour "Otros Mundos 2013." The event's master of Ceremony was the talented TV Host Miguel Angel Villagomez.
The young musicians of the Band 3D2 spend a joyful afternoon with the press and commented on future plans, the east coast summer 2012 tour and their first shows in Ecuador in November.
Brashell, another of Weras Records exclusive artists, talked about her electro-pop style and made a good impression performing one of her original song "Ay Caray." The third artist to have the opportunity to show his talent and unique musical abilities was RafyLife, who surprised the press with his personal take on urban bachata.
Another big Step for 3D2
Elsa, J-First and Maikin, the young and talented members of 3D2, shared with the press and fans an afternoon full of surprises and music. The band, who have a unique style, started in 2000 with their first musical ideas but soon develop a very distinct blend of stylse product of discipline and countless hours of practice. In 2000 they recorded their first album "Cansado de Ser feliz", wich in English means tired of being happy was their first musical adventure and contains songs like "cansado de ser feliz" and "Mal hombre."
In 2008 they released "Los Hijos de Mama", one of their must popular and important works to date, an album that contains some of their must popular songs like "El Gran Bailador", "Yo Valgo Mas" y "Donde Esta", and in 2009 they released "La Suegra" a song that had a lot of airplay in some of the most important radio stations of the Tri-State Area.
The ascendant career of 3D2 has taken them to Festivals and clubs all over the east and central regions of USA and also to the famous and magnanimous Madison Square Garden where they had the privilege of performing "El Gran Bailador" to Thousands of New yorkers. In 2013 3D2 will be releasing new song and taking their music on a Broader Tour that will take them all across the united states and South America.
http://www.3d2music.com
/
http://www.werasrecords.com