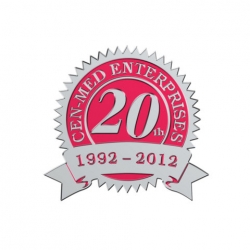 New Brunswick, NJ, October 22, 2012 --(
PR.com
)-- Cen-Med is celebrating 20 years of business this year at their national headquarters located in New Brunswick, NJ. "Twenty years ago, my parents had a dream of starting their own business," says Rizwan Chaudhry, Vice President of Sales. "And with a little money she had managed to save my mother Shakila Chaudhry took the plunge, while my father continued practicing as a veterinarian." Several months later the business grew enough so that my father, Khalid Chaudhry, joined too. In the twenty years since, much has changed, but the core values of the business have remained the same.
Established in 1992, Cen-Med was started when some friends, who happened to be laboratory owners, spoke to them about the need for more committed customer service from their vendors. While there were plenty of vendors to choose from in New York, none of them had that old world customer service philosophy they were looking for. As immigrants from Pakistan, the Chaudhrys understood that philosophy to do whatever it took to support the customer. "We would often lose money to make a client happy," recalls Khalid Chaudhry, now Director of International Business. "My wife and I took orders, placed purchase orders, paid vendors, collected money from our customers, and did deliveries, sometimes in the evening or on the weekends. Those early years were a struggle." And that struggle continues to this day. Cen-Med specializes as a just in time distributor, and provides a very customer oriented delivery schedule. "We were running a JIT program before it became a strategy taught in business schools," says Umer Chaudhry, Director of Strategic Markets, who, along with Rizwan, comprise the two sons who are now a part of the business. Rizwan Chaudhry adds, "Cen-Med has a commitment to provide a continuous supply of goods to healthcare sites throughout the New York tri-state area, while helping struggling hospitals lower the costs of their supply chain and logistics. By us keeping the necessary quantity of goods readily available to them, hospitals can focus on the healthcare side of their business, instead of worrying about inventory levels."
Although Cen-Med has expanded its market from the laboratory to hospitals, and now medical device and pharmaceutical clients, it remains focused on customer service in a way the multi-billion dollar healthcare distributors cannot. All calls routed to the New Brunswick office are answered by a staff member on site and not an automated or off-shore call center. "Our customers are here, our primary warehousing facility remains here, and our customer service and sales people are here. Cen-Med has grown over the years, but our level of commitment to our customers remains as high as it was 20 years ago."
About Cen-Med Enterprises, Inc.
Cen-Med Enterprises has been in the healthcare distribution and services business since 1992. Cen-Med delivers goods and services in almost every part of the globe, and has been named one the fastest growing privately held companies in the healthcare industry, several years by INC. Magazine. For more information, please visit
http://www.Cenmed.com
.