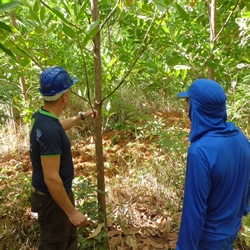 Copenhagen, Denmark, October 26, 2012 --(
PR.com
)-- Greenwood are pleased to announce the intention to deliver their first "thinning returns" to clients for the Acacia "Phase I' project. Acacia is one of Greenwood's many well established forestry projects in Bahia state, Brazil.
Clients who have invested into 'Phase I" of the Acacia project in 2008 will receive the first stage payments from the process of tree 'thinning'.
Tree thinning is a necessary part of Greenwood's Acacia project to encourage the remaining trees to grow strong and healthy, whilst simultaneously allowing for a tree selection process to optimise the final hardwood harvest. The wood that is thinned in this process will be sold for charcoal products, fence posts or log energy. Depending upon the markets at the time of thinning, Greenwood will select the best possible exit strategy to optimise the clients' returns. The Acacia project, now in its 4th year, is well on target with Greenwood's operating model and is progressing extremely well in Bahia state, Brazil.
First stage payouts are due to be paid to clients in spring 2013. Further thinnings will be considered in the years prior to the final payout, where the end products are expected to be sold for higher value products. Given the supply pipeline for Acacia and future demand visibility, final returns are expected to exceed Greenwood's original expectations.
Further progress and updates on the Acacia project will be announced in due course.
Free forestry investment information pack available here
.